Learn more about our World Congress 2022 program topic - pelvic pain and endometriosis, via our educational resources below. From videos to UOG articles, VISUOG chapters, Learning modules and ISUOG Guidelines.
Congress program sessions
Masterclass [MC]: Endometriosis: linking the ultrasound appearances to the findings at surgery – a video masterclass
Speakers: Dr Gernot Hudelist, Prof. George Condous and Dr Kristine Aas-Eng
Date: Saturday 17 September Time: 08:30 – 09:15
Workshop [WS]: The endometriosis MDT: how experts make a diagnosis of DE and plan treatment
Speakers: Prof. George Condous, Dr Gernot Hudelist, Prof. Carla Tomassetti, Prof. Stefano Guerriero and more to follow…
Date: Saturday 17 September Time: 10:45 – 11:45
Oral communications [OC]: Pelvic pain and endometriosis
Speakers: Dr Kristine Aas-Eng and Prof. Carla Tomassetti
Date: Saturday 17 September Time: 09:20 – 10:20
Review our detailed program of plenaries, workshops, masterclasses here.
Supplement your learning
Acute pelvic pain: differential diagnosis and case examples
Dr Beryl Benacerraf discusses the causes and diagnosis of pelvic pain through the use of ultrasound.
Basic Training resources
Patient Information Leaflets
This leaflet is to help you understand the use, accuracy and timing of pelvic ultrasound scan and what questions you should be asking your caregiver.
This leaflet is to help you understand what Endometriosis is, how does it happen, what tests you need and what are the long term implications of the diagnosis?
UOG articles
Learning Modules
VISUOG Chapters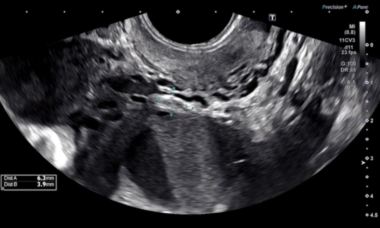 Explore chapters on Endometriomas, Adenomyosis, Deep endometriosis, Superficial endometriosis and Extrapelvic sites of endometriosis.
CME Activities
Earn CME points as you learn by searching and completing the following activities on the ISUOG Academy learning management system:
Some ISUOG educational resources and lectures require you to become a member. Become a journal member today to have full online access to all articles from Ultrasound in Obstetrics and Gynecology. If you are a member, please sign in to view the locked content.