Learn more about our World Congress 2023 program topic - Fetal Anomalies - via our educational resources below. From videos to UOG articles, VISUOG chapters, Learning modules and ISUOG Guidelines.
Get the inside edge from Prof. Simon Meagher discussing 'Fetal Anomalies' at World Congress 2022.
Congress program sessions
Workshop: Optimal management of multiple pregnancies
How to mange discordant fetal anomalies: invasive diagnostic intervention
Workshop: Artificial intelligence and obstetric care: possibilities and impossibilities
AI-assisted discussion of fetal anomalies
Workshop: Revealing the tips and tricks on how to perform an adequate fetal brain evaluation by ultrasound and MRI
Anomalies of the ventricular system. How to approach this diagnosis and implications for counselling
The brain in the second trimester scan – how to enhance the detection rate of anomalies?
Systematic evaluation of the fetal sulcation – diagnosing cortical anomalies
Beyond the T2: understanding other MRI sequences for the diagnosis of fetal brain anomalies
Oral Communications: Fetal brain and CNS anomalies
Oral presentations: Fetal brain and CNS anomalies
Supplement your learning
Scan imaging in the first trimester
Dr Simon Meagher highlights clinical examples of ultrasound imaging during the first trimester of pregnancy
Basic Training Resources
ISUOG Guidelines
UOG articles
Patient Information
This leaflet is to help you understand the use of ultrasound in pregnancy, the timing of your scans, and what additional scans you might need during your pregnancy.
This leaflet is to help you understand the use and goals of early pregnancy ultrasound, how to prepare for it, and what to watch out for.
Learning Modules
VISUOG chapters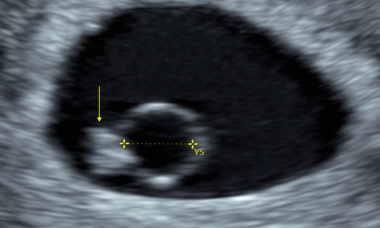 Early pregnancy ultrasound plays an important role in confirmation of pregnancy, establishing viability and location of the pregnancy, confirming fetal number and type of placentation in multiple pregnancy and facilitating early diagnosis of life-threatening abnormalities such as ectopic or molar pregnancy. In this chapter, we will provide the reader with key information on the value of early pregnancy ultrasound.
Explore chapters in the first trimester.
CME Activities
Earn CME points as you learn by searching and completing the following activities on the ISUOG Academy learning management system:
Some ISUOG educational resources and lectures require you to become a member. Become a journal member today to have full online access to all articles from Ultrasound in Obstetrics and Gynecology. If you are a member, please sign in to view the locked content.