You are warmly invited to register for the Fetal Medicine and OBGYN ultrasound training workshop in Benin City, Nigeria. This programme has offered ultrasound training in maternal and fetal care to over 450 Obstetricians and Gynaecologists, medical officers, Nurses and Midwives, Radiologists and other medical and health personnel working in West Africa and other regions of the world since its inception in 2014. The team of very experienced facilitators is led by Dr Ehigha Enabudoso who is the ISUOG ambassador to anglophone West Africa and a member of the ISUOG outreach committee.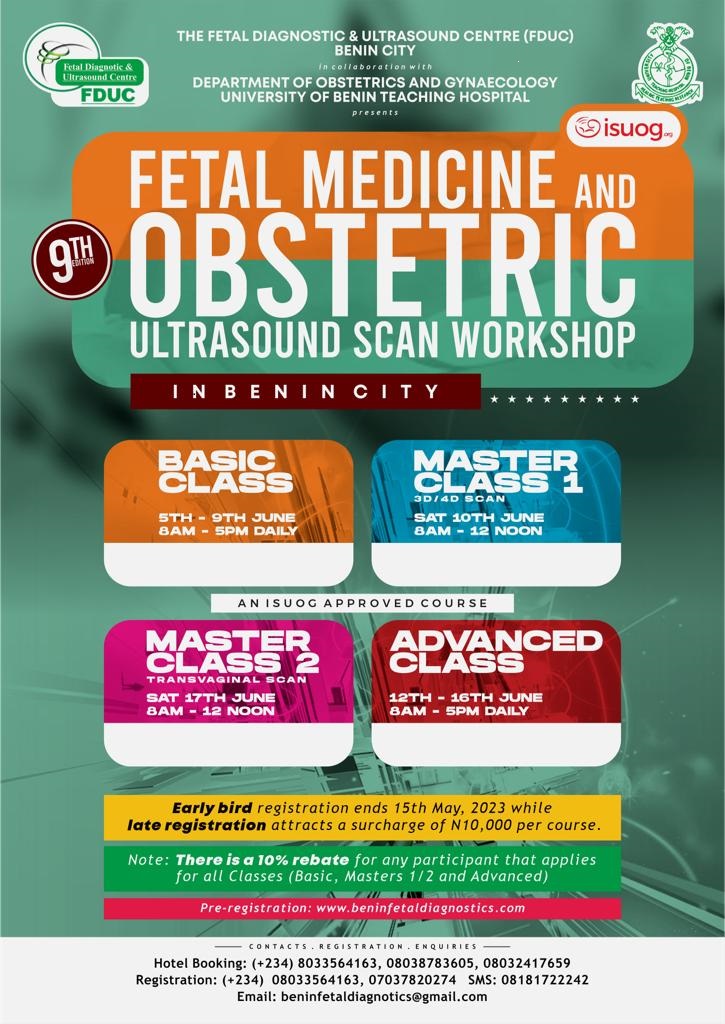 At this programme, the participants at the basic workshop will have access to an array of experienced facilitators to expose tricks on understanding the basics of ultrasound appreciation, the principles of Obstetric and Gynaecology scanning including having hands-on experience.
The advanced course is geared towards building on basic skills and providing practical experience of fetal anatomical survey, Doppler velocimetry and fetal cardiovascular examination amongst others.
Join us from the 5th to the 9th of June 2023 for the Basic Course and from the 12th to the 16th of June 2023 for the Advanced Course with 2 one-day Masterclasses between them.
Visit the workshop website for more information and to register at – www.beninfetaldiagnostics.org
Course language – English
Course Director
Outreach Committee
Country: Nigeria
Field: Obstetrics
Specialties: Fetal ultrasound, Obstetric Dopplers; Ultrasound education.
Language: English
Dr Ehigha Enabudoso obtained his medical degree and had his residency training at the University of Benin and the University of Benin Teaching Hospital, Benin City, Nigeria respectively. He had his training in Fetal Medicine and OBGYN Ultrasound at the Tygerberg Academic Hospital, University of Stellenbosch, South Africa. He is a fellow of the West African College of Surgeons and the National Postgraduate Medical College of Nigeria. He is an examiner and a member of the Faculty Board of the National Postgraduate Medical College of Nigeria. He has certifications from the Fetal Medicine Foundation in various aspects of Fetal Ultrasound and Obstetric Doppler Ultrasound.
Through the Fetal Diagnostic and Ultrasound Center in Nigeria and collaborating with other organizations, Dr Enabudoso has run the ISUOG endorsed Fetal Medicine and OBGYN Ultrasound workshop since 2014. This has trained hundreds of healthcare practitioners in and around West Africa and has also facilitated livestreaming of many ISUOG courses in Nigeria. He has also been involved in the HealthyMagination Mother and Child Initiative (HMCI) of the GE Healthcare and USAID as master trainer to train Community Midwives on limited basic ultrasound scan for healthcare service in rural Nigeria.
His more recent research area is in advancing ultrasound in LMICs. He is presently working on tools for competence assessment in basic ultrasound. Two recent related publications include:
Enabudoso E, Adams OH. An international standard fetal ultrasound training programme organized in a low resource setting: The ISUOG‑Benin City experience. Trop J Obstet Gynaecol. 2016: 33(3); 292-296
Ehigha Enabudoso, Osikhueme H Adams. Organizing an international-standard obstetric ultrasound training program in a low-resource setting. IJGO. 2017: 136(1); 102-104.
Dr Enabudoso has been involved in various medical outreach programmes mainly in West Africa. He works presently as Lecturer and Honorary Consultant in the Department of Obstetrics and Gynaecology of the University of Benin and the University of Benin Teaching Hospital, Benin City, Nigeria. He worked recently too as Associate Clinical Professor, Icahn School of Medicine at Mount Sinai, New York City, USA in the World Bank collaborative programme at the Liberia-Japanese Friendship Hospital, Monrovia-Liberia (2019).
He hopes to use his interest, passion and experience to assist in furthering the growth and scope of the ISUOG outreach programme in LMICs.
Read more
Aim
The main goal of this training is to share knowledge on the basic principles of obstetric ultrasound scan and to acquire starting skills for basic ultrasound scan as well as Fetal Doppler acquisition and clinical utilization.
Programme schedule for 2023 workshop - https://www.beninfetaldiagnostics.com/programme