Leaders at Children's Hospital of Philadelphia in the United States, Schneider Children's Medical Center of Israel, and Corniche Hospital together with Sheikh Khalifa Medical City from SEHA Abu Dhabi Health Services, in United Arab Emirates, have joined together to host the 1st International Middle East Fetal-Neonatal Cardiovascular Disease Conference.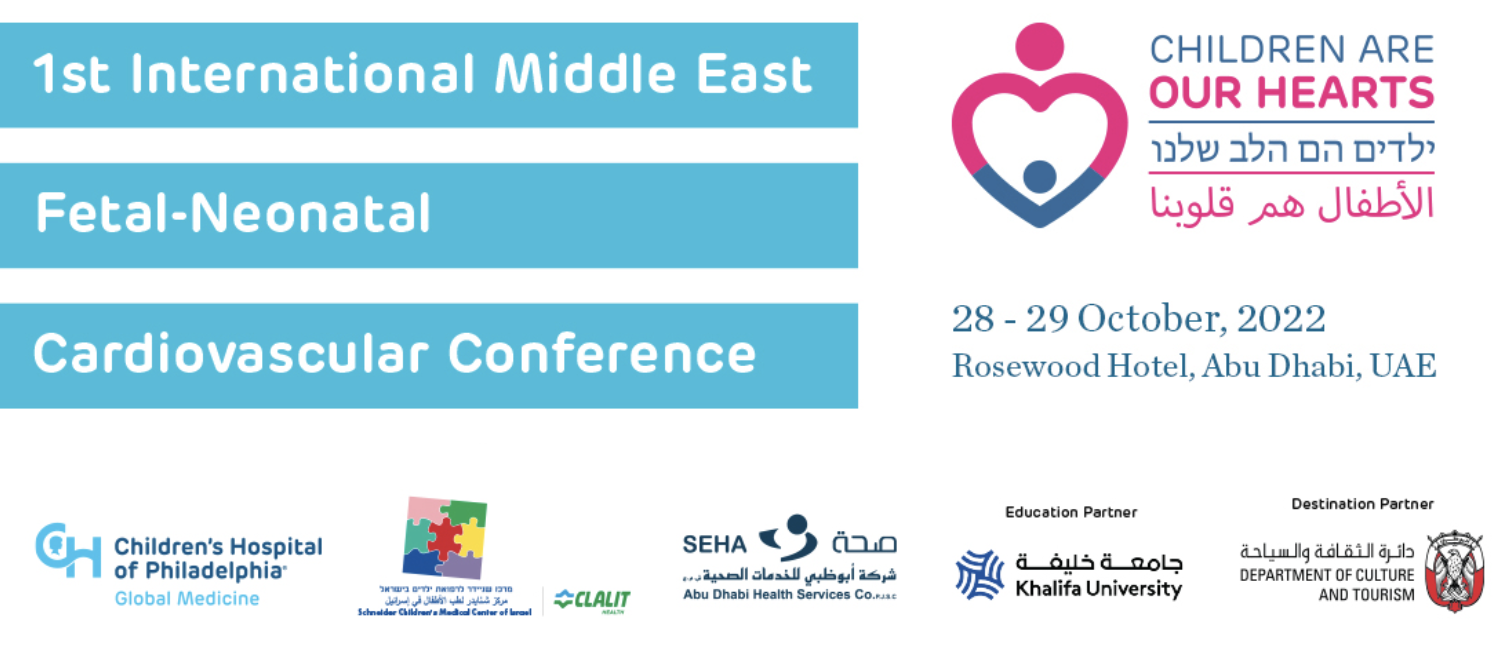 This 2-day, state-of-the-art, live in-person and virtual hybrid educational conference will be held in Abu Dhabi, UAE, on Friday and Saturday October 28-29, 2022, with an optional fetal echocardiography imaging simulation workshop on Sunday, October 30, 2022.
Included for discussion in the conference are topics such as: genetics of heart disease, fetal and newborn imaging, review of specific fetal cardiovascular conditions, obstetrical and maternal care, innovative fetal therapies, care of the newborn with heart disease including catheter and surgical interventions, social aspects and long-term outcomes of congenital heart disease in the middle east, and other subjects.
The target audience is maternal fetal medicine specialists, prenatal ultrasound specialists, fetal cardiologists, pediatric cardiologists, pediatric cardiothoracic surgeons, neonatologists, intensive care specialists focused on newborn cardiovascular care, and newborn nurses.
Please find the programme in PDF here
1st international Middle East Fetal & Neonatal Cardiovascular Disease Conference
Fetal Heart Special Interest Group, UOG Editorial Board
Prof. Josh Copel is a Professor of obstetrics, gynecology & reproductive sciences and pediatrics at Yale University School of Medicine. He is past President of ISUOG and in addition, he is an active member of the society having served as Treasurer from 2007 to 2011, and is a part of several ISUOG Committees. He is also a past President of the American Institute of Ultrasound in Medicine and a past President of the Society for Maternal-Fetal Medicine.
Notable Publications:
Moore CL, Copel JA. Point-of-Care Ultrasonography. N Engl J Med 2011;364:749-757.
Werner EF, Han CS, Burd I, Lipkind HS, Copel JA, Bahtiyar MO, Thung SF. Evaluating the cost-effectiveness of prenatal surgery for myelomeningoceles: a decision analysis. Ultrasound Obstet Gynecol. 2012 Apr 18. doi: 10.1002/uog.11176.
Country: USA

Field: Obstetrics

Specialties: Fetal anomaly screening T1 & T2; aneuploidies; fetal heart; fetal interventional procedures

Language: English
Read more
Prof. Dr Rabih Chaoui, was born and schooled in Beirut, Lebanon. His medical studies and specialisation in obstetrics and gynecology were undertaken at the Charité Medical School, Humboldt University, in Berlin, Germany. Between 2001 and 2004, he was professor of obstetrics and gynecology at the Charité University Hospital, Berlin and since 2004 he has worked at the Center of Prenatal Diagnosis and Human Genetics in Berlin. An ISUOG member since 1994, he has been a Board member from 2003 to 2013, including two terms as Chair of the Education Committee, and received the Stuart Campbell Award for Education in 2018.
Prof. Dr Chaoui has written three books on fetal ultrasound and more than 250 papers and monographies. Since 1986, his major interest has been in fetal ultrasound to include fetal heart, fetal 3D, first trimester ultrasound, ultrasound in genetic diseases and high-resolution ultrasound.
Read more
Link for the registration:
Contact details:
David Caldwell
+1 215-960-8642
mobile/whatsapp/telegram/viber