The September issue of Ultrasound in Obstetrics & Gynecology is out now. This issue of the UOGJournal includes a Physician Alert in which the STRIDER Consortium address the recent suspension of the Dutch sildenafil trial, a Review of microRNA expression patterns in cardiac remodeling and pre-eclampsia, an Original Article on longitudinal growth assessment for prediction of adverse perinatal outcome in suspected small-for gestational-age fetuses, and a Case Series assessing fetal blood-gas values during fetoscopic myelomeningocele repair performed under carbon dioxide insufflation.
Read the September issue now. You can also check out the UOG highlights for this issue.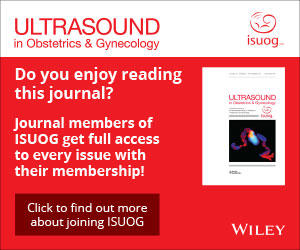 Become a Journal member of ISUOG for access to all content from UOG, the field's leading peer-reviewed journal with an impact factor of 5.65.