3/D & DOPPLER IN OBSTETRICS / Second Module Of Professional Diploma of Fetal Medicine.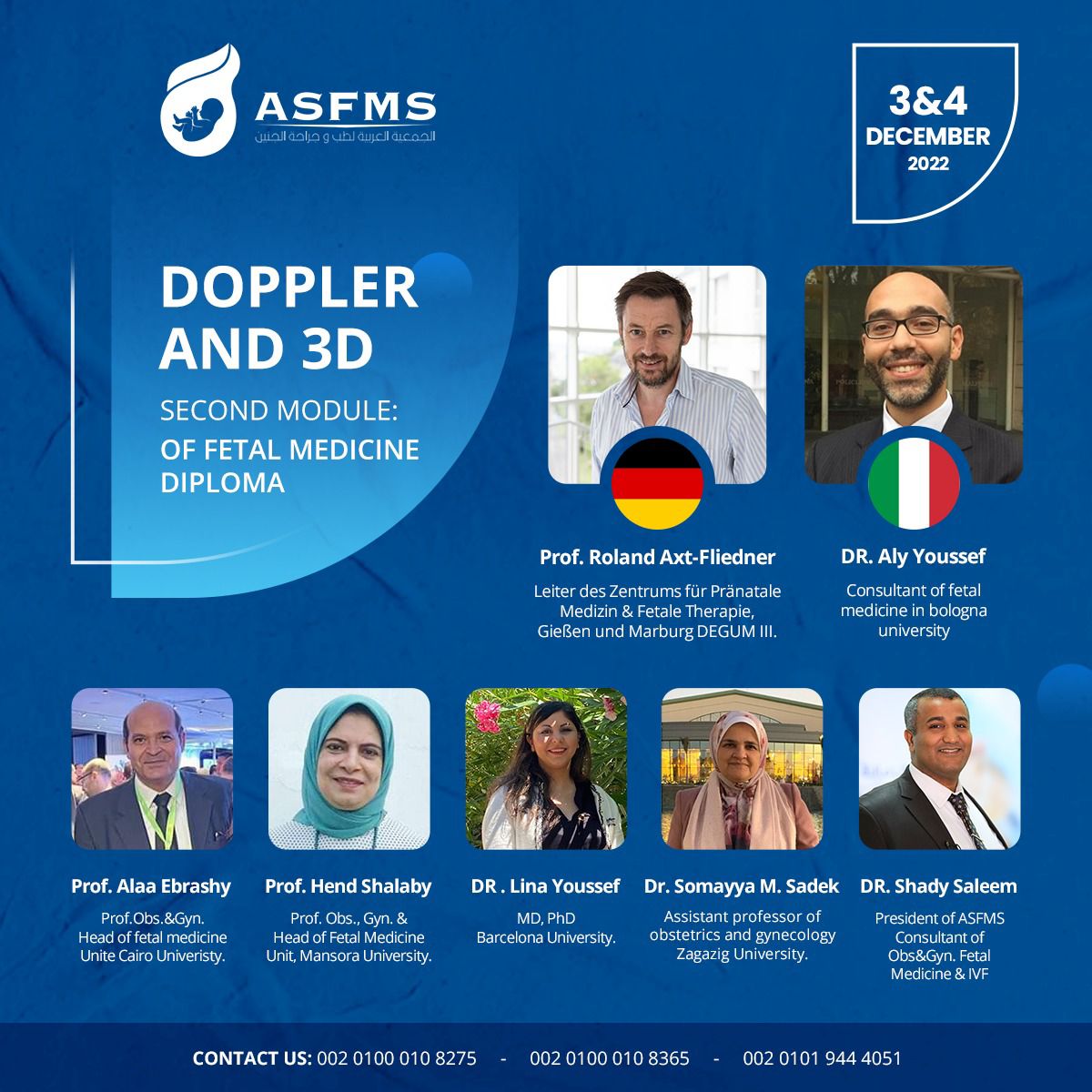 It's a part of the Professional Diploma of Fetal Medicine, amongst SIX educational modules which involves theoretical education & hands-on one to one world class training for our candidates, which qualifies them as a very well-trained referral physician. It's a very sophisticated sub-specialty in Medicine, however it's widely sought for by O&G doctors & Radiologists due to its immense need within the big crowds of patients who often need a proper medical consultation especially with fetal anomalies & the decision of termination of pregnancy, taking in consideration respect for patients' personal beliefs & preferences.
Course Programme:
Cairo online Doppler and 3D Dec2022
Speakers:
Prof. Roland Axt-Fliedner has been involved in the field of fetal medicine and therapy for the last 20 years, heading a large tertiary referral centre together with pediatric heart centre. His scientific interests are fetal echo, fetal therapy, first trimester, and genetics.
Notable Publications
Myocardial function in fetuses with lower urinary tract obstruction: Is there a cardiac remodeling effect due to renal damage?
Graupner O, Enzensberger C, Götte M, Wolter A, Mueller V, Kawecki A, Weber S, Degenhardt J, Herrmann J, Axt-Fliedner R
Head Biometry in Fetuses with Isolated Congenital Heart Disease.
Graupner O, Koch J, Enzensberger C, Götte M, Wolter A, Müller V, Kawecki A, Herrmann J, Axt-Fliedner R.
Ultraschall Med. 2018 Nov 21. doi: 10.1055/a-0796-6502.
Country: Germany

Field: Obstetrics/Fetal Medicine

Specialties: Fetal anomaly screening 1st trimester and 2nd trimester; fetal biometry and wellbeing; fetal anomalies screening; aneuploidy screening; fetal anomalies; fetal heart; fetal growth restriction; maternal and fetal Doppler; fetal interventional procedure; multiple pregnancy; fetal growth; detection of fetal and neonatal growth abnormalities

Languages: German; English; French
Read more
Link for the registration: الجمعية العربية لطب وجراحة الجنين is inviting you to a scheduled Zoom meeting.

Topic: Doppler & 3D Module
Time: This is a recurring meeting Meet anytime

Join Zoom Meeting
https://us06web.zoom.us/j/86858515275?pwd=SUxvQUY1VkxRUndhaGRPRkp2TUhldz09

Meeting ID: 868 5851 5275
Passcode: 141018
Contact details:
email: [email protected],
contact number: 00201553722755