Livestream Conference EASTERN EUROPEAN PROFESSIONAL MEETINGS: Ultrasound in Obstetrics and Gynecology 2022 is targeted on Ob&Gyn specialists, fetal medicine doctors, ultrasonographers and radiologists, prenatal geneticists and practitioners in these fields.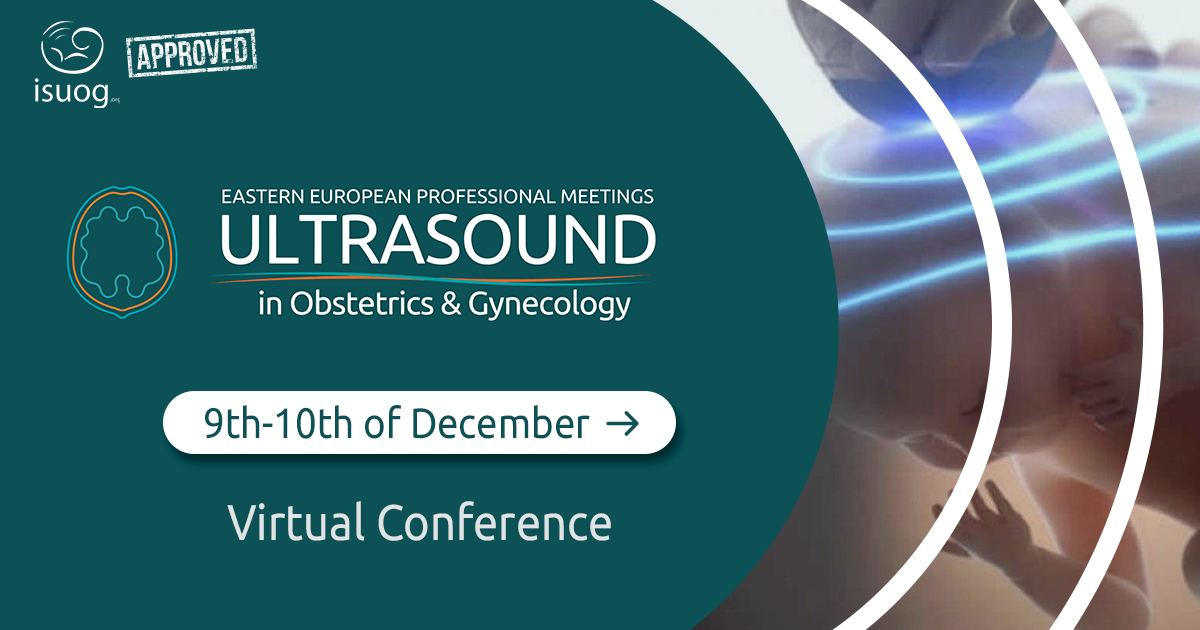 EDUCATIONAL GOALS:
To improve knowledge of doctors and sonographers involved in prenatal diagnosis in performing basic and advanced ultrasound examinations during different stages of pregnancy

To provide an advanced course in obstetric ultrasound for health care providers to reduce the level of child mortality and morbidity

To demonstrate skillful scanning techniques for performing prenatal ultrasound using modern transvaginal probes and 3D/4D approaches

To give awareness in differentiation of normal fetal anatomy and the most common fetal anomalies and syndromic conditions

To recognize typical ultrasound features and sentinel signs suggesting specific syndromic conditions.

To provide a glimpse into the potential fields of artificial intelligence in fetal medicine from image pattern recognition to assisting in diagnoses
CONFERENCE PROGRAM MAIN SCIENTIFIC POINTS
This Conference is dedicated for specialists in feto-maternal medicine interested in fetal ultrasound. Modern prenatal diagnosis relies on high resolution ultrasound and the detection of details in addition to the knowledge on a large number of fetal diseases and syndromes. This two-days course has two parts, one morning part will be discussing the state of the art gynecological ultrasound and the remaining one will provide insights into the first trimester ultrasound, abdominal and cardiac anomalies as well as common and rare syndromes in 2nd and 3rd trimester and discuss each of these in details. In addition, during the Conference we will discuss the actual role of artificial intelligence in prenatal ultrasound to be better prepared for its use in future
1. First Trimester Anomaly Scan
· New guidelines on First Trimester Scan
· Typical anomalies not to be missed in 1st trimester
· Fetal cardiac anomalies in first trimester
· Fetal spine anomalies in first trimester
2. Second Trimester Anomaly Scan
· Hints for esophageal atresia
· Atresia of the bowel, simple and complex
· Approach the fetus with an abdominal wall defect
3. Fetal Echocardiography
· Counseling in fetal cardiac defects
· Transposition of the great vessels
· Cardiac anomalies with an abnormal 4CV
· Early cardiac scan
4. Fetal syndromes
Many syndromic conditions will be discussed including
· Common trisomies
· Skeletal anomalies
· Radius aplasia
· Noonan syndrome
· 22q11 – Deletion syndrome
· Charge Syndrome
· Chondrodysplasia punctata syndrome
5. Artificial intelligence and future of the Ultrasound
· Artificial intelligence in assisting fetal scanning
· Artificial intelligence in assisting fetal cardiac scanning
· Artificial intelligence in assisting diagnosis making
6. Ultrasound in Gynecology
· How to use IOTA simple rules and easy descriptors
· What is the best strategy to characterize ovarian tumors?
· Ultrasound signs of tumor spread in the pelvis and abdomen
· 3D Evaluation of the uterine cavity: a practical guide
· Uterine Scar Examination before and during pregnancy
· 2D and 3D Evaluation of Ectopic pregnancy
· Pelvic floor examination after birth
· Ultrasound-based assessment of endometrial pathology
Please find the conference programme here:
Eastern European Professionals Meeting 2022
Speakers:
Contact us:
Cell / What'sApp / Viber / Telegram :
+380685281897
+380687077327