Welcome to register for the Prof. Chaoui Author's Course on EXPERT FETAL ULTRASOUND. It is an annual Course for the feto-maternal specialists interested in fetal ultrasound. This year scientific program is well prepared by Prof. Chaoui, Prof. Abuhamad and Prof. Benoit! 21 days access to the Course video records will be provided. Modern prenatal diagnosis relies on high resolution ultrasound and the detection of details in addition to the knowledge on a large number of fetal diseases and syndromes. This course has two parts, the morning part will be discussing the first trimester ultrasound and the afternoon part will pick up single anomalies' groups in the 2nd and 3rd trimester and discuss each of these in detail!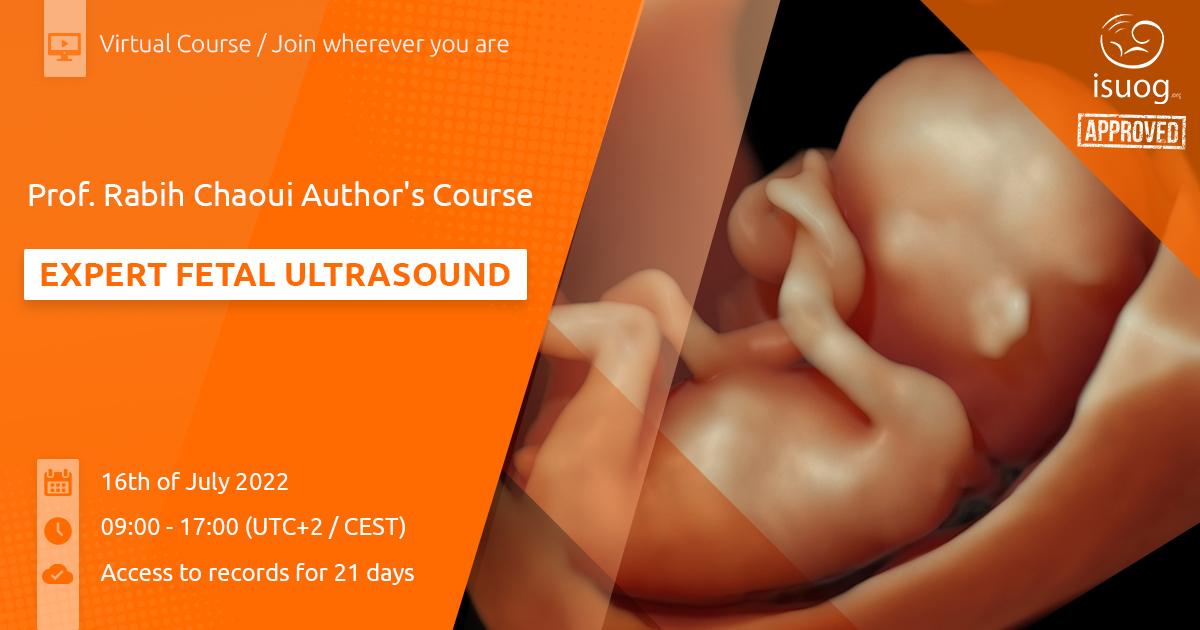 Join us on the 16th of July 2022 for the ISUOG Approved Course "EXPERT FETAL ULTRASOUND" with video records access for 21 days.
SPEAKERS:
CONFERENCE PROGRAM MAIN SCIENTIFIC POINTS
Scanning embryo and fetus before 12 weeks
Facial anomalies in the 1st trimester
Signs of aneuploidy in the 1st trimester
Skeletal anomalies in the 1st trimester
Open spina bifida in the 1st trimester
3D ultrasound in the 1st trimester
Cardiac anomalies in the 1st trimester
Head: Ventriculomegaly of different etiologies
Head: Intracerebral hints for syndromic conditions
Abdomen: Gastrointestinal anomalies
Abdomen: normal and abnormal kidneys
Heart: Fetal cardiac tumors
Heart: Approach to diagnosis in cardiac anomalies
EDUCATIONAL GOALS:
To review the actual up-to-date knowledge on first trimester ultrasound beyond nuchal translucency
To understand the typical signs of facial anomalies, skeletal dysplasia, open spina bifida, aneuploidies and cardiac anomalies in the first trimester fetus.
To provide knowledge on the big potential of the advent of scan before 11 weeks as well as the use of 3D ultrasound in early gestation.
To review fetal neurosonography knowledge as the differential diagnoses of ventriculomegaly in 2nd trimester fetus and the intracerebral hints of syndromic conditions
To understand the differential diagnosis of the typical abdominal anomalies of the gastrointestinal tract and renal anomalies
To provide actual information of the diagnostic approach once a cardiac anomaly is detected
To demonstrate the differential diagnoses in the presence of cardiac tumors in the fetus
CLICK HERE for a scientific program!
Course language: English
Visit website to learn more and register
Website - https://english.extempore.info/expertfetalultrasound_2022
Contact:
mail to:
Cell / What'sApp / Viber / Telegram :
+380685281897
+380687077327