Welcome to register for the One Day Focus "Fetal Imaging and beyond" 2023! This course is particularly interesting for Ob&Gyn doctors, maternal-fetal specialists, ultrasonographers, prenatal genetics and those passionate in these fields.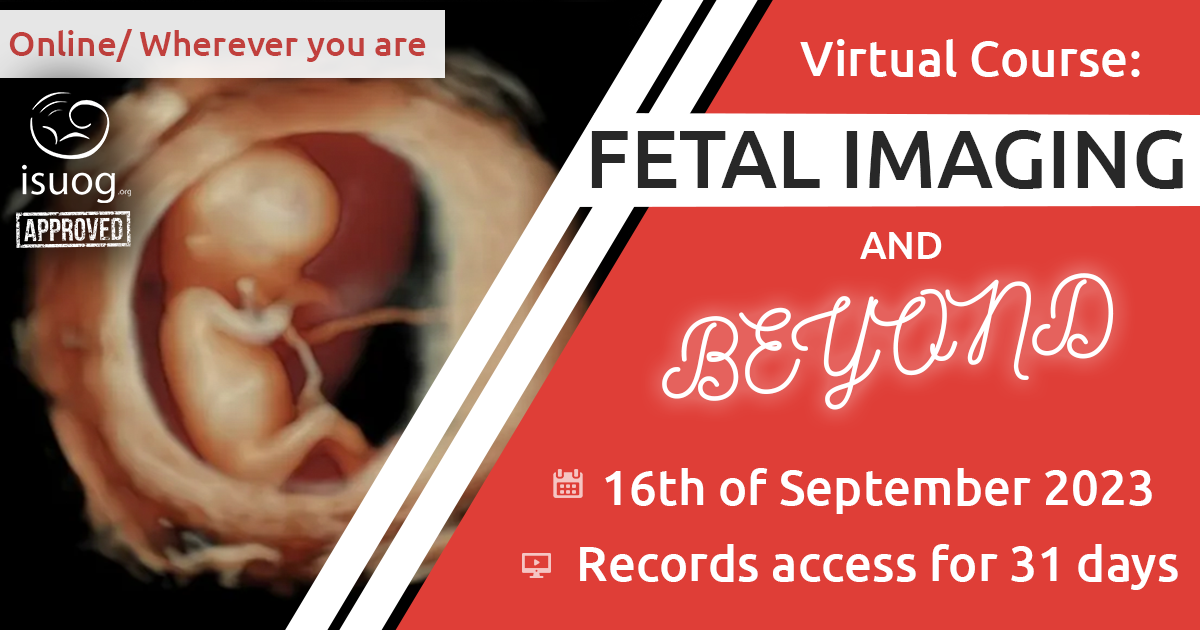 This year the Course on Fetal Imaging will provide you with the latest information on strategies for optimizing the approach to screening and diagnosis of fetal pathology and discuss treatment options. You will learn about syndromes detection in the first and second trimesters, the role of ultrasound imaging for diagnostic and management of maternal fetal diseases, and fetal malformations.
The course is divided into three sessions. The first session will cover prenatal diagnostics of fetal syndromes: fetal ultrasound and NIPT, US markers of common trisomies, benefits of 3D ultrasound, diagnostic significance of fetal limb anomalies. Afterwards we will talk on ultrasound for the diagnosis and management of maternal-fetal diseases. And the last session will be devoted to a sophisticated approach to fetal malformations: targeted US imaging, MRI-evaluation, and further management options.
Join us on the 16th of September 2023 for the Course "Fetal Imaging and beyond" with video records access for 31 days. Registration is now open!
SPEAKERS:
IN THESE YEAR CONFERENCE PROGRAM
Fetal Ultrasound and NIPT: optimizing the screening strategy
Strategy for Fetal Ultrasound in NIPT Era
What to do in cases of abnormal NIPT?
Syndromes detection in 1st and 2nd trimesters
Ultrasound markers of trisomy 21
Role of 3D Ultrasound in Fetal Syndromes
Fetal limb anomalies
Ultrasound for detection and management of Maternal Fetal Diseases
US in congenital infections
Prenatal US manifestation and management of Fetal alloimmune thrombocytopenia
Imaging for fetal anomalies: detection, differentiation, and management
Malformations of the Thorax and thoracic organs
Abdominal lesions / masses
MRI in the evaluation of fetal abdominal and thoracic lesions
Gastroschisis
Congenital diaphragmatic hernia: detection and selection of patients for fetal interventions
EDUCATIONAL GOALS:
To learn about newest approach to fetal US assessment in NIPT era
To update your knowledge about ultrasound markers of trisomy 21 in 1st and 2nd trimester
To highlight the role and benefit of 3D ultrasound in fetal syndromes detection
To review the diagnostic pathway in cases of fetal limb anomalies
To improve your facility for US evaluation of the fetus in cases of congenital infections
To understand prenatal US manifestation as well as management options in cases of fetal alloimmune thrombocytopenia
To upgrade your knowledge about imaging in fetal anomalies - their detection, differentiation, and management, with the emphasis on thoracic and abdominal pathology that require surgical treatment after birth
To discuss the new insights in the prenatal fetoscopic procedures in congenital diaphragmatic hernia - diagnostic criteria and patients selection
Course language: English & Ukrainian
Visit website to learn more and register
Website - https://english.extempore.info/fetalimagingandbeyond_2023
Contact us:
mail to:
Cell / What'sApp / Viber / Telegram :
+380685281897
+380687077327