Read the latest letter from ISUOG President, Prof. Tom Bourne, about the ISUOG World Congress registration, the latest consensus option and statement from the UOG Journal, plus the next webinar in the free ISUOG series.
Dear Colleagues
There are so many events going on the world I could comment on – but will restrain myself this month. However, I can confirm again that the ISUOG World Congress will be on 15 to the 17 October 2021. Thank you to the many research groups and individuals who have submitted their abstracts. For many years there have been conversations about ISUOG events being made more accessible. This year I am delighted the Trustees have approved a very significant change in the pricing of the meeting for colleagues from low resource countries. Registration this year for ISUOG members from these countries will be £20 pounds for early bird, in line with ISUOG's charitable mission to improve women's health around the world. I really hope this makes attending an ISUOG world congress more accessible. We also have plans to tailor some content specifically to low resource settings. More details on this will be available soon. This change in the pricing structure for the world congress is a signal of intent by ISUOG to ensure all its activities can be accessed by clinicians with relatively low levels of financial support.
In the UK COVID still dominates the agenda with on-going debates about the management of variants of concern, travel policy and pace of vaccination. Meanwhile the G7 summit has just finished in Cornwall. This is one of the most beautiful parts of the UK, though I doubt any of the delegates will see much of it. My mother was Cornish, and she would be the first to tell me that Cornwall "is not England". She believed in Cornish independence, was proud of her Celtic background and was steeped in the folklore that is prevalent in the area. The landscape in Cornwall is majestic so I hope it inspired the G7 to make some good decisions about our future.
I am pleased to report that Asma Khalil ran a very successful educational course on congenital infections. Given the quality of the faculty I guess this was not surprising, but it was good to see so many people taking advantage of the content. We are always keen to add to our educational program so please remember that members can propose courses by getting in touch with the office. You do not have to be a board member of committee chair to do this.
This month, the White Journal includes a consensus opinion from the VITA group on terms, definitions and measurements to describe the sonographic features of lymph nodes, a debate on the relative merits of the SMFM and ISUOG guidelines for diagnosing and managing fetal growth restriction, a State-of-the-Art Review on controversies in the management of twin pregnancy, and a RCT on routine third-trimester ultrasound for the detection of small-for-gestational age in low-risk pregnancies. It's interesting seeing the approach taken by the VITA group to reflect on how influential the International Ovarian Tumor Analysis (IOTA) group has been in gynecological ultrasound research. The first aim for IOTA was to develop standardized terminology, and in 2000 IOTA published a consensus statement on terms, definitions and measurements to describe the sonographic features of adnexal masses that is now widely used today. Having agreed on standardized terminology, the IOTA investigators prospectively studied large cohorts of patients with a persistent adnexal mass in several different centers to produce better diagnostic models. This methodology has been replicated to examine disorders of the endometrium and myometrium, endometriosis, as well as aspects of early pregnancy care. Now this approach is being applied to the description of inguinal lymph nodes and vulval cancer.
Finally, in this newsletter I want to pay tribute to Professor Wilfried Feichtinger who sadly passed away on Thursday 4th June. These days IVF and the techniques that accompany it have become commonplace, however this was not always the case. In 1995 Wilfried Feichtinger and Pieter Kemeter from Vienna described transvaginal oocyte aspiration with a needle guide attached to the transvaginal probe, and as they say "the rest is history". Wilfried set up the in vitro fertilization program at the Second University Women's clinic in Vienna, which resulted in the first IVF baby being born in Austria. He was a major figure in the field and continued to publish until recently. Back in the early 1990's transvaginal ultrasound was relatively new and Wildred, Seth Granberg, Rudiger Osmers, Margot Volksen and myself set up the "European Society for Endosonography in Obstetrics and Gynaecology (ESEGO)". Most of us were still fellows at the time, yet Wilfred kindly hosted us for one of our first meetings at his clinic near Schonbrun palace and conferences followed in London and Goteborg. It is fair to say we had a lot of fun doing this. Wilfried spoke several languages fluently and in his spare time was a passionate opera singer, a loving father and an enthusiastic grandfather. He leaves behind his wife Brigitte, seven children and just as many grandchildren. He will of course also live on and be remembered through the children he helped bring into the world over the years.
Best wishes,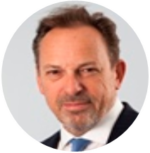 Prof. Tom Bourne
ISUOG President