A Season's greetings card from the ISUOG team and a message from our President, Tom Bourne. We wish you and your loved ones a safe, suitably socially distanced holiday season.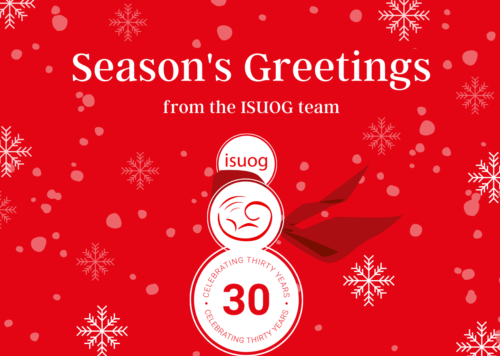 Dear Colleagues and Friends,
A year ago I was certainly not expecting how life would unfold over the next 12 months. However, like many of us, as soon as I read the Lancet paper from Wuhan on January 24th, I was certain 2020 was going to be a very different year to the one I had anticipated. Some governments subsequently seemed to move at a glacial pace as if a virus would somehow respect national boundaries. Epidemiologists became household names overnight and a podcast by a virologist topped a million subscribers. One year on, as I write this, there have been 75 million cases and approaching 1.7 million deaths from COVID-19.
For all of us working in clinics and hospitals, life changed profoundly. Many have been very anxious about their own health, a situation exacerbated by a paucity of PPE in many countries. Some clinicians have stayed away from home for long periods to protect their families. A number have been socially isolated and sadly some will have lost friends, colleagues or family members from the pandemic. There is no denying it has been a unique year in medicine that has left many healthcare workers fatigued and with elements of burnout. So, more than at any time, it is critically important to look after each other, to be supportive and to ensure people know they are part of a team that cares about them.
There is of course good news. If we needed an example of what can be achieved when sufficient resources and scientific focus are brought to bear, it is the stunning achievement of the development of several effective vaccines in record time. So, as we approach the holiday season, there is real hope that 2021 will at some point allow all of us to live free of lockdowns, have fewer "zoom meetings" and to enjoy some of the pleasures in life that perhaps we took for granted before COVID-19 arrived. I want to wish you and your loved ones a safe, suitably socially distanced holiday season.
Tom Bourne
ISUOG President