At the AGM in October 2020, Prof. Daniela Fischerova was re-appointed as a Trustee for the International Society of Ultrasound in Obstetrics and Gynecology (ISUOG).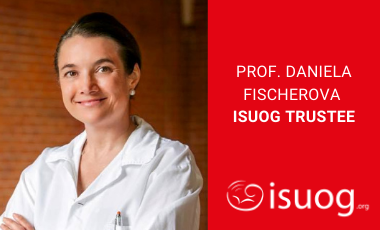 Biography
Prof. Daniela Fischerova is a Professor of OBGYN at the First Medical Faculty of Charles University in Prague. She has dedicated her career to the implementation of ultrasound in gynecological oncology and the planning of individualized treatment of cancer patients based on ultrasound diagnosis and staging. Prof. Daniela Fischerova is a past member of the ISUOG Scientific Committee, of the UOG Editorial Board and the ISUOG Advisory Membership Group. She has published more than 180 peer-reviewed research papers in medical journals.
Hear from ISUOG Trustee, Prof. Daniela Fischerova
"It is a great honour and challenge for me to be re-elected as a member of the trustees for the next term. I am specialized in obstetrics and gynecology, clinical oncology, and gynecological oncology. I am passionate about promoting implementation of ultrasound in cancer staging, particularly by teaching and international research cooperation. I am extensively involved in the postgraduate education at Charles University, leading Research and Educational Gynecological Ultrasound Centre there and international educational activities such as the 6-monthly International Workshop on Ultrasound in Gynecologic Oncology in Prague.
During the last two decades, the ISUOG gynecologic community of outstanding scientists provided the necessary evidence to document the role of ultrasound in gynecologic oncology, giving ultrasound its place in international guidelines as an effective alternative to other modern imaging modalities in primary work-up in cervical, endometrial and ovarian cancer. The next step is to assure partnership with international gynecologic-oncology societies and guarantee adequate teaching and certification in gynecologic oncology scanning under the ISUOG umbrella, including the establishment of a network of training centers worldwide. The implementation of high-quality ultrasound examiners in gynecologic oncology diagnosis and staging may positively impact the health of women, specifically in under resourced regions of the world with limited access to other modern imaging techniques (e.g. CT, MRI or PET/CT).
I will never forget the warm welcome I received when I became an ISUOG member in 2005. Since then, I have met excellent scientists and exceptional colleagues from all over the world and I am proud to say, made friends for life. I would like to contribute to keep ISUOG a kind, open, caring and respectful collegial environment where our enthusiastic colleagues can develop and clinical excellence can flourish, resulting in better care for women everywhere in the world."
Re- Appointed: October 2020.