ISUOG's Ambassador program aims to support membership growth and provide educational opportunities in under-represented regions of the world.
The following Ambassadors have been appointed in recognition of the work they are already doing to further ISUOG's mission to improve education in key regions and to support our continued membership development:
Look out for our Ambassadors at our Congresses and events, who will be wearing red lapel pins.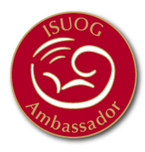 ISUOG Advisory Group
All our Ambassadors will form part of ISUOG Advisory Group set up to ensure more representation and feedback from across our membership on new activities, membership benefits and important Society decisions.