ISUOG Outreach conducted its last program in Kumasi, ending six years of working in Ghana.
ISUOG Outreach returned to Kumasi to follow up on Phase II and assess trainee skill
Project Title: ISUOG Outreach training in ultrasound in obstetrics and gynecology, Phase II - Part III
Location: Kumasi, Ghana
Dates: 4-8 December 2017
Project partners: Women's Health to Wealth (WHW), GE Healthcare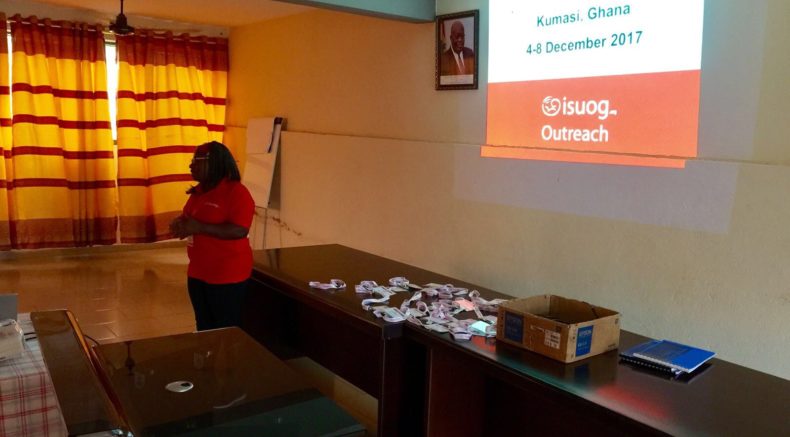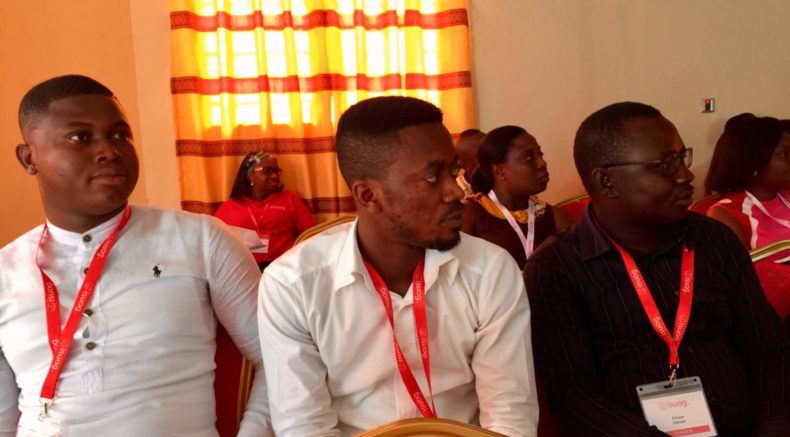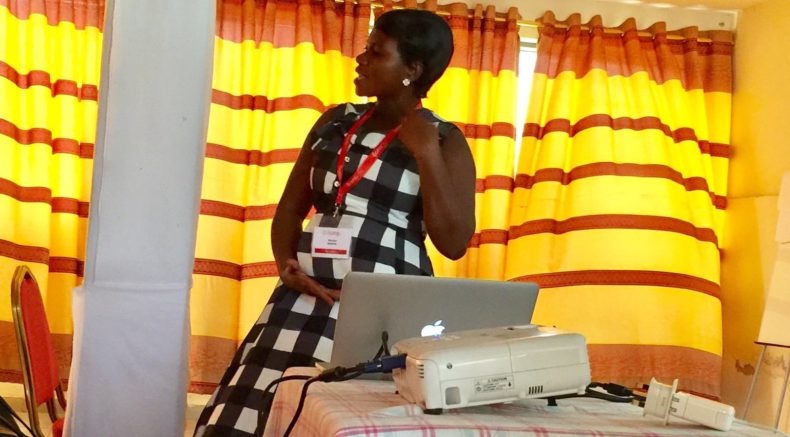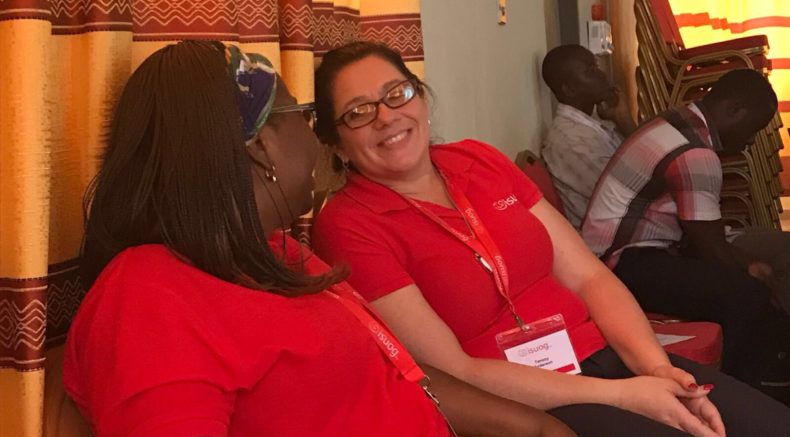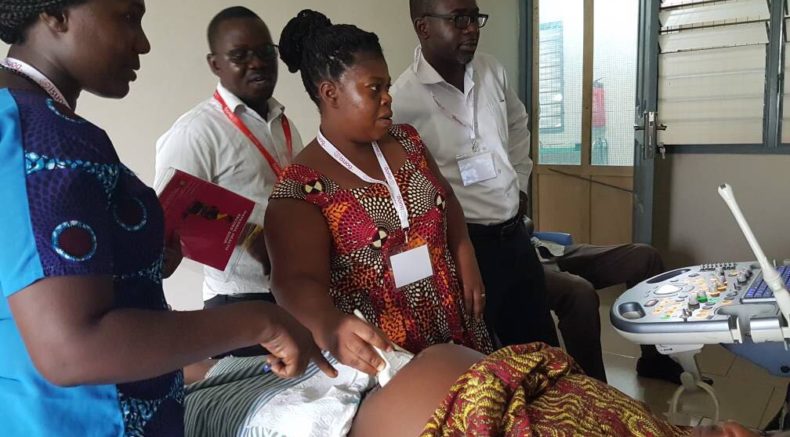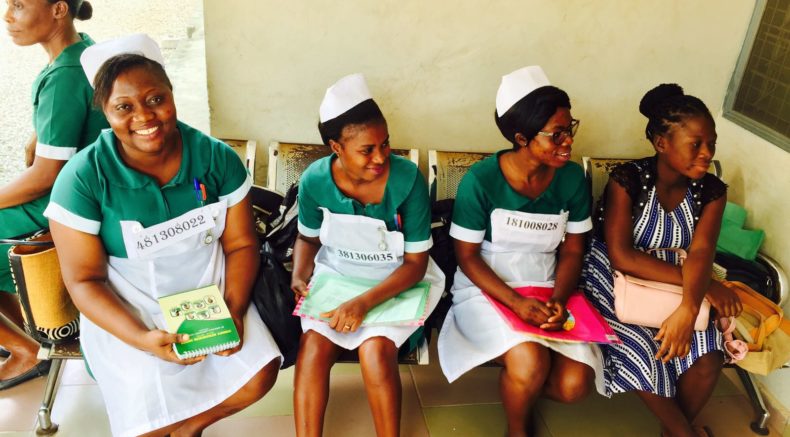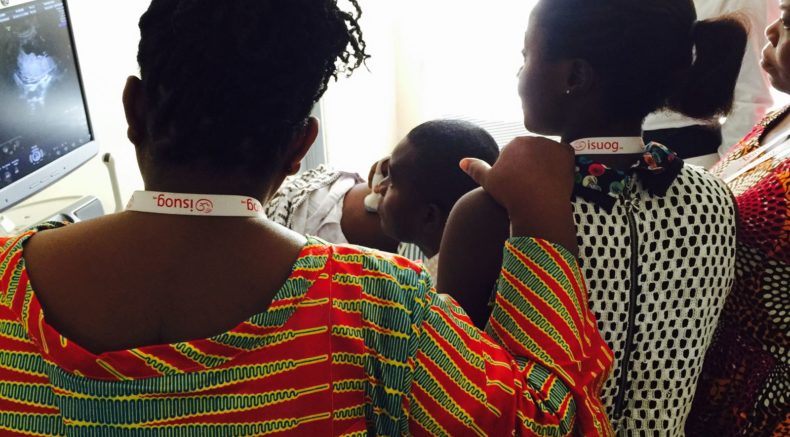 ISUOG Training team:
Dr. Tony Johnson, USA (team leader)
Dr. Janet Horenstein, USA
Dr. Theodora Pepera-Hibbert, UK/Ghana
Dr. Buah Hamilton, Ghana
Gesu Antonio Baez, International Development Coordinator, ISUOG
Tammy Anderson, Ultrasound Applications Specialist, GE Healthcare
Local ISUOG training team:
Adam Abekah Jonah, Ghana
Prince Owusu, Ghana
Albert Adu, Ghana
Bernice Nsobila, Ghana
Osei Bonsu Sarpong, Ghana
Participants / trainees:
34 trainees from across the Ashanti region
Hospitals: Suntreso, Old Tafo, Manhiya and South Kumasi Hospital
Ultrasound machines: The 3 Voluson ultrasound machines were donated by GE Healthcare for this project and allocated to Suntreso, Old Tafo and South Kumasi.

Training summary:
The week began rather surprisingly – attending the funeral of the Queen Mother of the Ashanti King! The Team was invited to Manhiya Palace to pay respects to the King and had an audience with Lady Julia, wife of the Ashanti King to discuss about the work in Kumasi which ISUOG had committed to for the past 6 years. During the first day of the program, each ISUOG trainer reporting separately to each training hospital. As the intent of this trip was to empower the newly recognised local trainers on teaching ultrasound in OB/GYN, they were each separated to join their respective mentors and provide lectures in the early morning, followed by hands-on training for the remainder of the day.
There were a total of 34 new trainees in attendance coming from across the Ashanti region to Kumasi. Janet Horenstein, Tony Johnson and Theodora Pepera remained stationary in their respective hospitals (notably Old Tafo Hospital, Suntreso and Kumasi South) while Tammy Anderson, Gesu Antonio, and Buah Hamilton rotated between hospitals during the entire. As the number of trainees superseded the number of machines available, Manhiya Hospital made itself available to accommodate the additional trainees with Dr. Buah Hamilton stationed there for the week with Bernice Nsobila.
Scanning competency forms were also completed by the New Local Trainers and they encouraged usage of WhatsApp to keep engaged with their new mentees as was done with them in the beginning of the program. As always, the training team was strong and cohesive which contributed to efficient teaching with Tammy Anderson returning to the field from GE Healthcare.
At program end, it was agreed that going forward Dr. Theodora Pepera will take over as lead of Outreach Ghana under the title of ISUOG's Special Representative to Ghana Outreach where she will serve as liaison between the ISUOG Secretariat and Kumasi itself, given her residency in Accra (45 minute flight from Kumasi). She will be working with Dr. Kwame, Director of Kumasi South Regional Hospital to understand how to build upon further in setting this hospital as base for ultrasound training in Ashanti region with the potential support of the Ashanti Royal Palace.
Phase II Trip III officially marks the end of Phase II and the end of the ISUOG Outreach Program in Ghana.
ISUOG would like to thank the Kumasi Metro Health Services for their partnership and collaboration over the years, as well as the Manhiya Palace for their graciousness during the recent week and commitment to sustainable development in women's health for the Ashanti Region. ISUOG grateful to GE Healthcare for their partnership in this program and consistent belief in ISUOG's vision, especially considering their donation of the three ultrasound machines. We also thank Women's Health to Wealth for their support. Finally, ISUOG wishes to thank the commitment and passion of the trainers – Dr. Anthony Johnson, Dr. Janet Horenstein, Dr. Theodora Pepera-Hibbert and both Tammy Anderson and Sarah Stephens of GE Healthcare. This program would've been impossible without you.