ISUOG Outreach returns to Port-au-Prince to help the trainees hone in on their ultrasound skills.
Project Title: ISUOG Outreach training in ultrasound in obstetrics and gynecology, Phase I Part 2

Location: St Damien Hospital, Port-au-Prince, Haiti

Dates: 9-13 January 2012
Partners: NPH Italia - Fondazione Francesca Rava, St Damien's Hospital, Operation Blessing International, Physicians For Peace, Médecins Sans Frontières, SMFM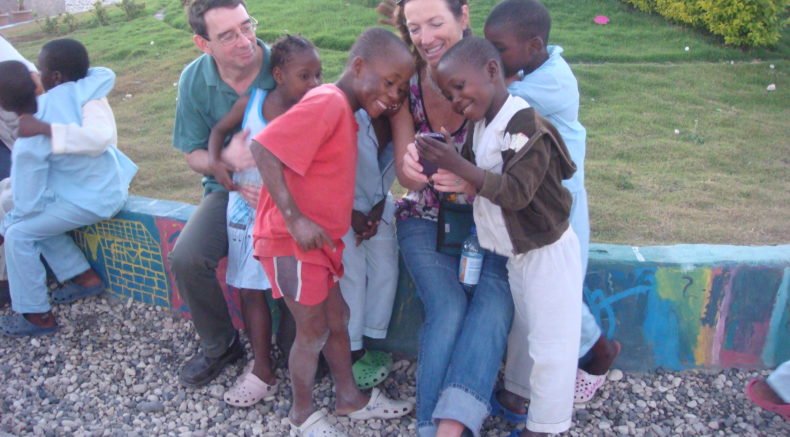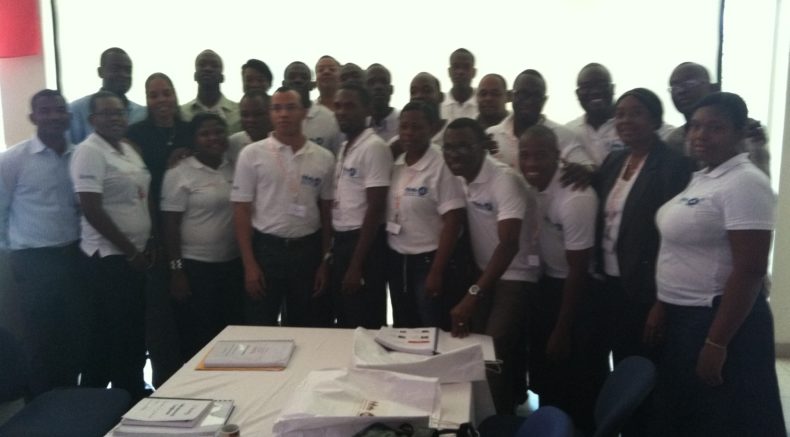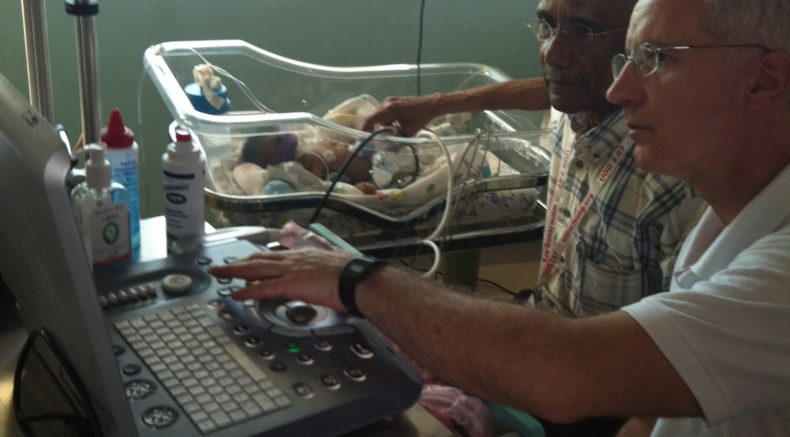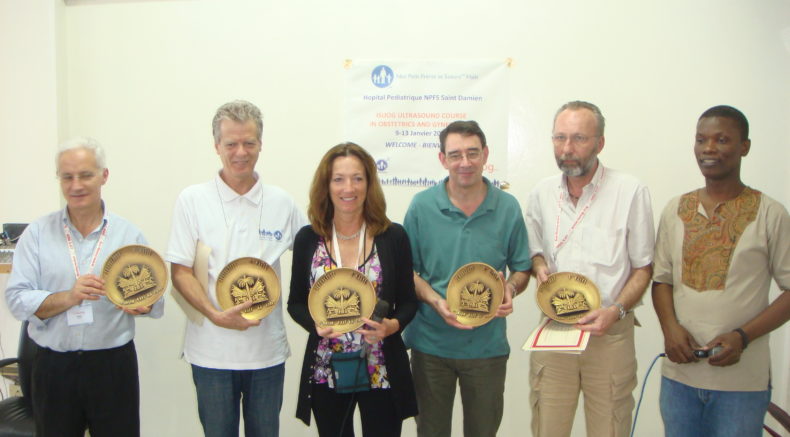 ISUOG Training Team:
Dr. Lisbet Hanson (USA) - team leader
Prof. Jean-Claude Fouron (Canada/Haiti)
Prof. Andrea Paganelli (Italy)
Dr. Maria Small (USA)
Dr. Samir Khalife (Canada)
Dr. Frank Sanderson (Canada)

Ultrasound machines: 3 GE Volusons, one of which was provided on loan for the course by GE from Italy and 1 SonoSite NanoMaxx (brought in by MSF trainees for the course).
Project purpose: To provide ultrasound training to local OB/GYN practitioners in Port-au-Prince area with the intention that these trainees eventually become local trainers.
Project deliverables:
Goal: By the end of Phase I, trainees will be competent in ultrasound scanning techniques and conduct quality scans in line with basic training outreach templates (SO2).
Output: Training dedicated trainees in basic ultrasound in OB/GYN scanning and hone in on their skills by evaluating their progress and provide mentoring between programs.
Outcome: Trainees competent OB/GN ultrasound scanning will increase level of anomaly identification and aid in preventing preventable causes of maternal mortality locally.
Participants: 25 participants: 14 Obstetricians (including 10 from St Damien's and 4 from 2 local MSF hospitals) 4 Nurse Midwives, 4 generalists, 4 Senior OBGYN, 3 Residents

Training location: St. Damien Hospital, Port-au-Prince

Training summary:
Previous issues with language were overcome with much of the training provided in French by francophone trainers. Facilities for both the theoretical and hands-on training were comfortable and adequte. All the machines being used for scanning had surge protectors, which greatly helped in protecting the systems from unstable currents which can have very damaging effects! Fortunately, the team did not experience any problems with the machines.
There was a regular and manageable number of patients for scanning, which allowed for more time with each patient. As the trainees were significantly better at obtaining basic fetal measurements, it was possible for them to spend some time learning more in depth fetal CNS and cardiac anatomy.The schedule's flexibility allowed for unplanned changes to the day's activities. For example, on Day 4, which was the second anniversary of the 2010 Earthquake, despite advance scheduling there were no patients who came to the hospital for scans. Instead, patients were brought in from the in-patient ward. This probably saved one woman's life as she was delivered that same day due to findings on exam at the time of the ultrasound.
This was the largest ISUOG Team to date and the extra hands were extremely helpful. This allowed for breaks and a little time to visit some f the other projects run by NPH. Although 4 members of the team were new to ISUOG Outreach, they each had unique strengths and personalities to contribute. The ISUOG Team worked very well together.
The larger training team allowed for breaks and time to sightsee in the morning for some of the Trainers, which was greatly welcomed as this always contributes to a greater understanding of the local context and culture. Social activities included a morning tour of the Rava-sponsored Cité Soleil clinic, a site visit to HUEH (the General University Hospital), dinners at 2 nearby restaurants including one restaurant sponsored by Rava and another at an old sugar plantation, a Celebration one evening at the hospital with visiting dignitaries including representatives for the Minister of Health and the Pope, and several HUEH OB-GYN Department staff. There was a dance party at the local restaurant one evening and a visit to a Rava-sponsored children's home and school on the last day. ISUOG was also fortunate to be present at the opening of the newly-renovated Maternity, also funded by the Rava Foundation.
ISUOG and the Outreach team would like to thank all the partners and trainees in helping to make this project a success. We would especially like to thank Dr Lisbet Hanson, Dr Maria Small, Prof Enrico Ferrazzi, Prof Jean-Claude Fouron, Prof Andrea Paganelli, Dr Samir Khalife and Dr Frank Sanderson for taking the time out of their busy schedules to participate in this project.