ISUOG Outreach conducted its final trip of the Mongolia Program back in 2014 in Ulaanbaatar.
Project Title: ISUOG Outreach training in ultrasound in obstetrics and gynecology, Phase I - Part III
Location: Ulaanbaatar, Mongolia
Dates: 2-6 June 2014
Project partners: Samsung Medeson, UNFPA, NCMCH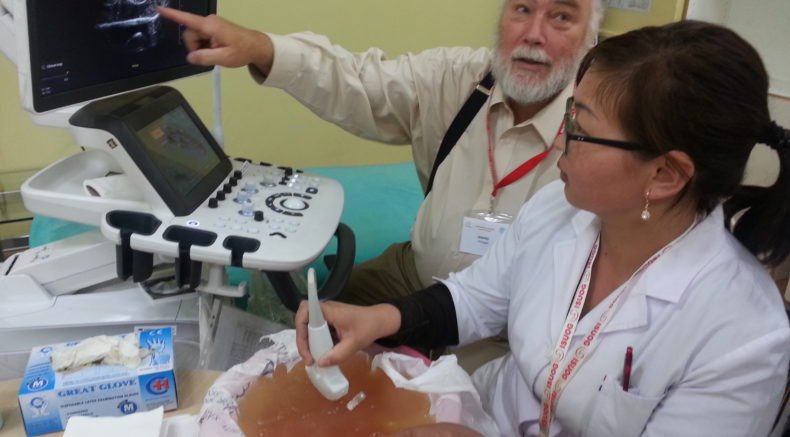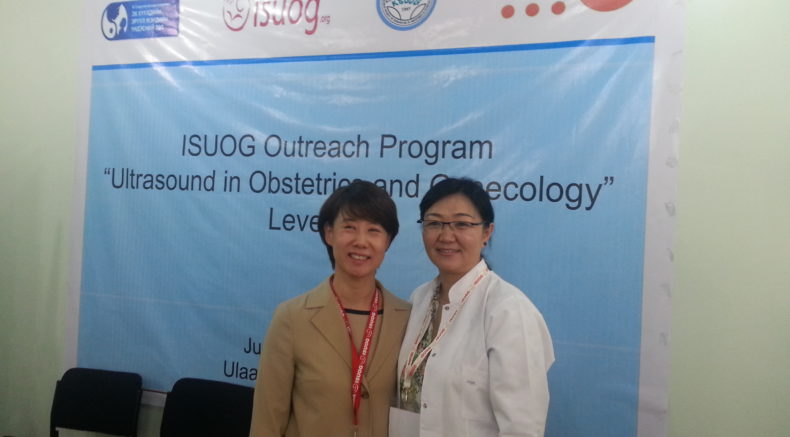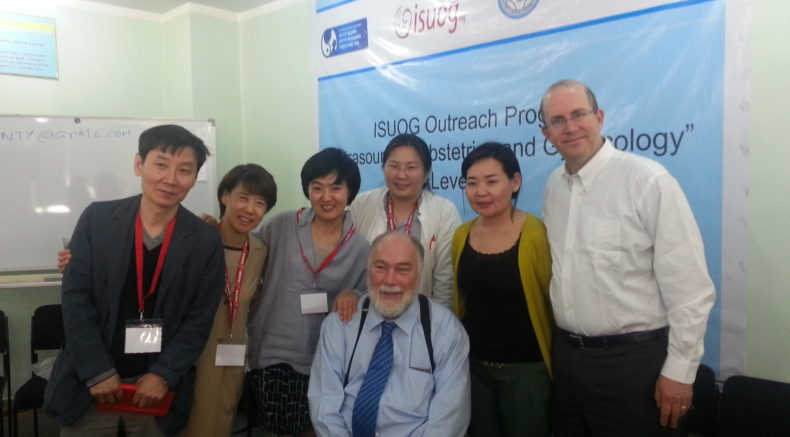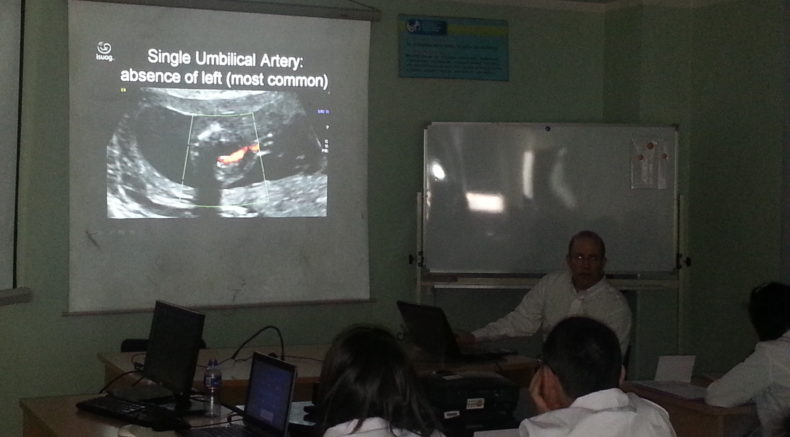 ISUOG Training team:
Dr. Philippe Jeanty (USA) - team leader
Dr. David Berck (USA)
Prof. Sa Jin Kim (South Korea)
Prof. Kwang Jun Kim (South Korea)
Prof. Moon-Young Kim (South Korea)
Prof. Hyun Sun Ko (South Korea)
Prof. Hye Sung Won (South Korea)
Project purpose: To provide ultrasound training to local OB/GYN practitioners in Mongolia with the intention that these trainees eventually become local trainers.
Project deliverables:
Goal: By the end of Phase I, trainees will be competent in ultrasound scanning techniques and conduct quality scans in line with basic training outreach templates.
Output: Training dedicated trainees in basic ultrasound in OB/GYN scanning and hone in on their skills by evaluating their progress and provide mentoring between programs.
Outcome: Trainees competent OB/GN ultrasound scanning will increase level of anomaly identification and aid in preventing preventable causes of maternal mortality locally.
Course Participants: 18 physicians from 11 different hospitals within the country
Training Summary:
ISUOG has once again returned to Mongolia and completed the third level of Outreach training at the NCMCH. Trainees from across the country attended a week long training program, involving both didactic lectures and hands on scanning, which helped build on knowledge gained during level 1 and 2 of the program.
The main obstacle for the volunteers was still the language barrier but despite this, the team still managed to generate enthusiasm among the trainees, thanks to the translation efforts of UNFPA partner Tsedmaa Baatar and her team.
A new feature which the team included in this phase of the trip was the use of a homemade Phantom ultrasound machine to allow the trainees to become more familiar with the technology. This unique creation was done by project leader Dr. Philippe Jeanty who made the Phantom which allowed the trainees to carry out repeated scans until they felt more comfortable with the technology. By the end of the session, most of the students were capable of putting a needle in a 10mm target at 10cm depth using ultrasound to guide them – some even getting down to an impressive 3mm target. The scanning practise also allowed the trainees to assess the various levels of scanning needs across the group which meant the subsequent hands-on scanning sessions could be more targeted towards different levels.
All trainees are encouraged to continue scanning as much as possible between training trips and all were given the opportunity to present some of the cases they came across throughout the week. The opportunity for trainees to present to the group was first introduced during ISUOG's Ghana Outreach project and proved to be very successful. This is now a core part of Outreach's teaching programs. Many of the results were quite impressive with some of the trainees having managed to conduct more than 7,000 scans since phase II back in September. Presentation topics included the role of ultrasound in emergency obstetrics and delivery, a scanning focus on how to conduct a simple test for possible tracheoesophageal fistula, and the significance of echogenic fluid. A small group of trainees also looked at E A V waves, isovolumic relaxation and contraction, as well as the Tei index.
Knowledge was also put to the test using hands-on training. Volunteers guided groups of trainees (divided by their level of competency) through examinations where many anomalies were identified, including aortic stenosis, Dextrocardia, sacrococcygela teratoma and a diaphragmatic hernia as well.
New to this trip were Hyun Sun Ko, Hye Sung Won and KSUOG President Sa Jin Kim whom all actively took part in sharing much of their knowledge with the group. The long term support and partnership of KSUOG has been valuable, to deliver our Mongolia Outreach program and ISUOG greatly appreciates working with such a devout group of people.
Growth in their knowledge of ultrasound was most definitely evident. Many of the trainees had attended all three programs and Dr. Jeanty had noticed that scores even doubled since training began. The results are shown in the graph below and this is a clear reflection of both the diligence and determination to succeed from the trainees.
Sustainability and development is the primary goal of ISUOG's Outreach program. In teaching these trainees the use of ultrasound and how to work with the technology, these trainees can then give back by teaching other doctors this same knowledge and the use of medical ultrasound within obstetrics and gynecology. In doing so, ISUOG is working with its partners to promote education to all practitioners and help promote women's health for lasting developmental results.
ISUOG would like to take this opportunity to thank all its volunteers for their tremendous work and efforts, Philippe Jeanty especially, who has served as project lead for all three trips of this program. We also wish to acknowledge the invaluable support of our partners: the KSUOG whose volunteers lent their considerable expertise to the training for each trip, Dr. Tsedmaa Bataar and the team at UNFPA who provided excellent onsite logistical support and went above and beyond to help translate and facilitate communications on site, and Samsung Medison, whose generous donation made this training possible.