ISUOG Outreach partnered with the renown Edna Adan Ismail to deliver ultrasound training in Hargeisa
Project Title: ISUOG Outreach training in ultrasound in obstetrics and gynecology, Part 1
Location: Hargeisa, Somaliland
Dates: March 27 - April 7, 2011
Partners: Edna Adan University Hospital, Médecins sans Frontières (MSF), SonoSite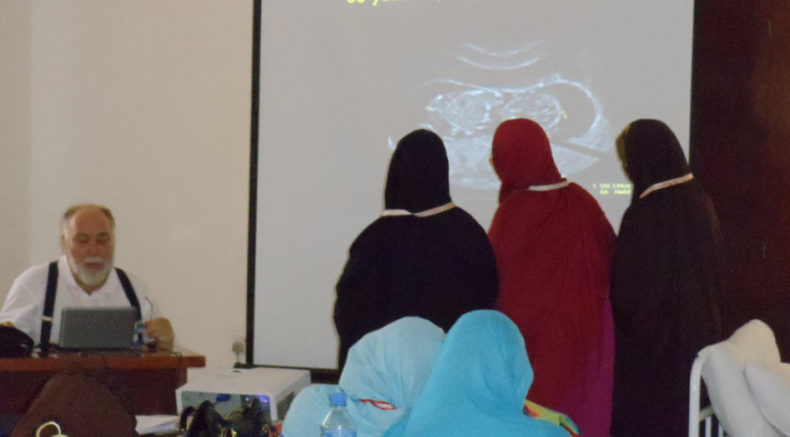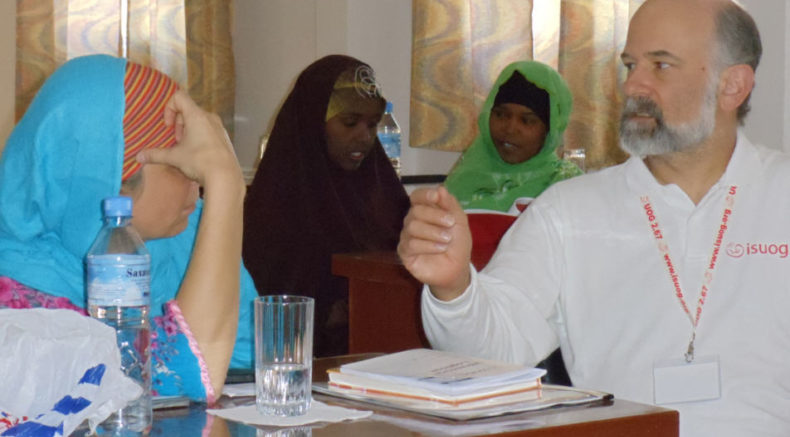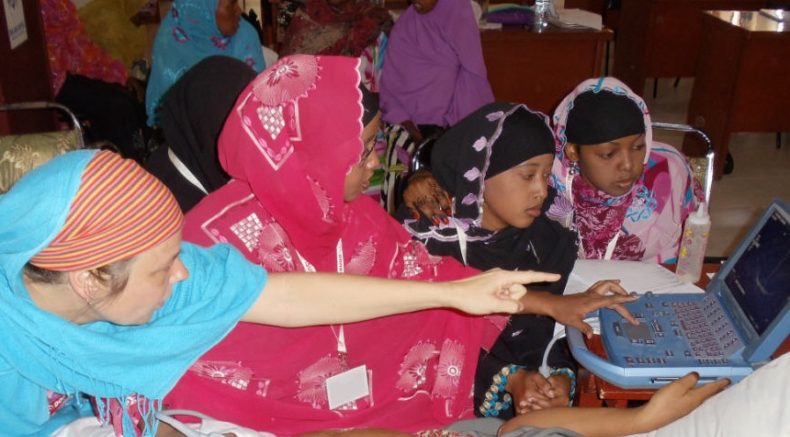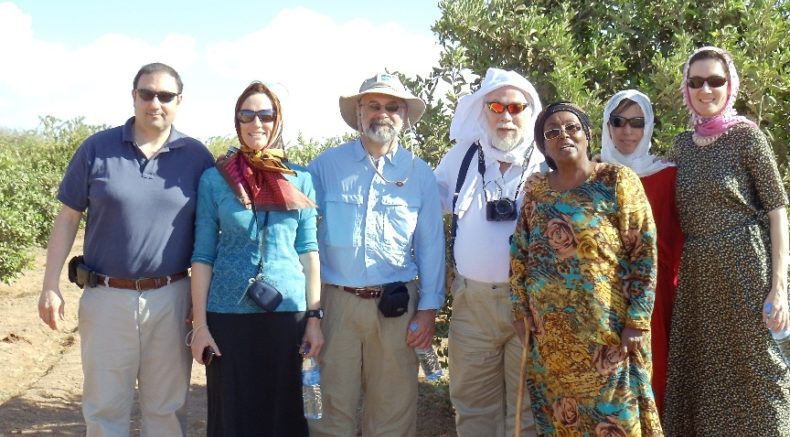 ISUOG Trainers:
Dr Lisbet Hanson (USA) - team leader
Dr Alfred Abuhamad (USA)
Dr Jude Crino (USA)
Dr Philippe Jeanty (USA)
Dr Katya Nekrasova (Russia)

Trainees: 12 Nurse-Midwifery students and graduates of Edna Adan's University Hospital NMW program, 15 Physicians, NMWs and radiographers from MSF sites in Somalia, Somaliland and Kenya

Training summary:
Before the ISUOG Outreach Somaliland project, the Hospital had two old ultrasound machines but there had not been any significant training in their use. This project is supported by SonoSite who have donated 4 NanoMaxx ultrasound systems. Established in 1998, SonoSite has produced machines for the US military for use on the field, which are highly rugged and can endure unstable electricity currents and therefore ideal for remote settings. The NanoMaxx systems donated by SonoSite are highly portable, and could also have a future use in developing Edna's mission of training "village midwives", who can fill the gap between doctors and nurses who tend to stay geographically closer to major hospitals.
ISUOG also partnered with Médecins Sans Frontières for this project. MSF's mission in Somaliland is to fill critical gaps in the local health system, with a particular emphasis on emergency care and response. MSF works in and around both the Somaliland and Somalia regions, also covering refugee camps in Kenya with a very large Somali population escaping the civil war. One of MSF's aims is to decrease pregnancy-related morbidity and mortality within their target population, and to see an increase in the number of deliveries taking place within health centres. MSF also provided invaluable logistic support to this project.
The course consisted of pre tests, lectures, hands-on scanning, interactive case presentations, post tests and a course evaluation, all given over five days. The first day consisted of all lectures, the next four of lectures in the morning and hands-on scanning in the afternoon followed by case presentations. Five additional days of supervised scanning by Katya and Jude followed in the Outpatient Clinic at Edna Adan's University Hospital with Edna's physicians and nursing midwives.
Trainees learned basic OB scanning as well as documentation of findings in an official report. Presentation, viability, placental position, number of fetuses, amniotic fluid and gestational age were the parameters on which the training focused. The ISUOG Trainers presented information, answering questions and adjusting lecture materials to fit the needs of the group. An excellent lecture on management of post partum haemorrhage that was originally not included in the course material was also carried out.
Patients for scanning were recruited from Edna Adan Hospital's patients as well as a large part from MSF's clinics around Hargeisa.
At the conclusion of the teaching, trainees were given a series of evaluation questions and the opportunity to provide feedback on their impressions of the course. The trainers were very happy to see that all participants were very happy with the material taught during the course, and were also encouraged by the constructive feedback given to further improve future visits. The trainers were delighted when the trainees decided to start their own "ISUOG Scanning Club", which will meet on a monthly basis to review scans, discuss cases and upload images for consultation purposes.
Certificates of participation and CDs containing the entire course were distributed. Lisbet thanked and gave Edna a gift of crystal candle sticks and tapers and Edna spoke eloquently about the gift and power of knowledge. She expressed her thanks to all who had participated and to the partners that had made it happen. The MSF representative expressed her organisation's sincerest thanks to everyone and also distributed gifts.
Following the conclusion of the course, Drs Hanson, Abuhamad and Jeanty departed, and Drs Nekrasova and Crino remained at the Edna Adan University Hospital for an additional five days in order to supervise and assist trainees in integrating ultrasound scanning into their daily clinical practice. Both trainers were impressed at how much progress their trainees had made since the first day of class.
ISUOG would like to thank Edna Adan for being a wonderful host, MSF for partnering with us and helping ISUOG make this project a success, SonoSite for their extremely generous donation of four SonoSite MicroMaxx systems and last but not least our dedicated trainers for their commitment, enthusiasm, energy and personal contributions to this project. ISUOG looks forward to continuing this fruitful collaboration with its partners. Thank you!