Read the latest letter from ISUOG President, Prof. Tom Bourne, about the World Congress, our new free monthly webinar series, and much more.
Dear Colleagues,
These monthly newsletters seem to come round rather rapidly; I have decided that I have no future as a newspaper columnist having to write something relevant and interesting on a weekly basis! I contemplated writing a list of my recommendations to watch on Netflix during lockdown, but was reminded this would not be appropriate for a newsletter to the membership of ISUOG.
So, what's new? I think the first thing to tell you is that the ISUOG Board has taken a decision that the World Congress will be held in London this year. As I indicated in my previous newsletter, the event is planned to be hybrid, so a mix of "in person" and virtual. The main reason for this decision is the practical difficulty in visiting conference locations in continental Europe during the current restrictions on travel. On the other hand, the ISUOG staff based in London will obviously be able to carry out the necessary site visits more easily when they are local. As we all know, things will inevitably remain fluid in a world of new variants, possible vaccine resistance and potential travel restrictions.
This takes me neatly onto COVID-19. On the 28th of February, we will have the first ISUOG free monthly webinar of the year. It will aim to establish what we have learnt about COVID-19 over the last year and will cover vaccination in pregnancy, the implications of new variants, lessons from the large registry studies and new therapeutic options. Unfortunately, COVID-19 is not going away, and we must continue to advance our knowledge about this evolving virus. This webinar will be in partnership with the WHO, which signals the desire by ISUOG to work more closely with global health agencies. Moving forward, we will soon publish the full program of ISUOG webinars for the rest of the year.
On the subject of COVID-19, I was struck by the paper in the White Journal this week by Raigam Martinez-Portilla and colleagues, outlining the scientific effort in combating COVID‐19 in obstetrics and gynecology. It shows how early in the pandemic ISUOG members pushed out guidelines across a range of issues and subsequently continued to add to our knowledge about the disease. I think this shows how ISUOG can contribute rapidly to events and hopefully provide relevant guidance and information.
Everyone at ISUOG hopes you enjoyed the 30th anniversary virtual meeting. We ended up with almost 11,500 registrants. For many in the office, it was a very long day so I would like to take this opportunity to thank everyone involved for making this happen so seamlessly. I also know that preparing recordings of lectures takes time and preparation, but without the opportunity to meet with colleagues at a face-to-face meeting and perhaps enjoy a new city. Without the commitment of our speakers, there would be no meetings and no educational material. So thanks to all of you for taking part and giving your time so generously.
The next major ISUOG event is the Calgary Virtual International Symposium that is taking place on the 17th and 18th of April. The team in Canada have put together a really great program, so do have a look on the ISUOG website. It is frustrating not to be able to travel to such a wonderful part of the world, but we have shown how engaging the virtual platform can be.
This month, ISUOG established the "Next Generation" committee, which is the first new committee the society has formed for many years. Members will need to be within 5 years of specialist qualification, and the aim is that this will provide a forum to ensure trainees can have a voice at the center of the society and input into all of ISUOG's activities. It will be chaired in the first instance by Srdjan Saso, so you know who to get in touch with if you have any ideas you think they should be pushing forward on behalf of trainees or those in the early years as a specialist.
We have also just appointed a number of new ISUOG Ambassadors. They will have a pivotal role in the society's strategy to tailor activities to regional requirements.
Finally, I only this week learnt that Groundhog Day is actually "a thing" that is celebrated on February 2nd rather than a Bill Murray movie. I gather the idea is that if a Groundhog emerges from its burrow and "does not see its shadow", this augurs well for the arrival of Spring. So let's hope that there were no shadows this year, the weather improves and levels of coronavirus decline!
With best wishes,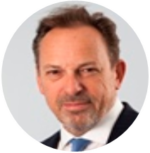 Prof. Tom Bourne
ISUOG President