Read the latest letter from ISUOG President, Prof. Tom Bourne, about ISUOG events, including the International Symposium, upcoming Basic Training course, the World Congress and the next webinar in our free webinar series, key articles in the May issue of the UOG Journal and much more.
Dear Colleagues,
At the end of the last newsletter I said I had barely mentioned COVID-19. Unfortunately, the last month has seen devastating waves of infection in India and other countries like Uruguay that, up to this point, had somehow seemed to escape the worst of the pandemic. Incredibly, by the beginning of May, almost 1.2 billion doses of vaccine had been given to over 570 million people. However, this translates to only 7% to 8% of the world's population receiving at least one dose and, to date, by far the majority of vaccine doses have been given in just half a dozen countries. We need over 75% of the world to be vaccinated for this pandemic to be controlled.
Moving on to a more positive subject, the ISUOG International Symposium (IS) on the 17th and 18th April was a great success with 880 delegates attending. It would have been great to visit Calgary, but once again the virtual platform provided a really good experience. Jo-Ann Johnson and Denise Pugash, alongside the scientific and education committees, did a great job putting the program together. We look forward to more IS meetings, with a plan in the future to run two each year in different parts of the world.
Unfortunately, in my last newsletter I gave out the wrong dates for this year's World Congress, which was a bit of a basic error as the President of the society! So, I can now definitively say that the Virtual World Congress will take place from the 15th to the 17th October, NOT in early September. As a result of this, the abstract submission deadline has been extended to 15th June, so people will have more time to get their data together. When we announced the September dates, it was clear from the feedback received that in Europe this was felt to be too close to when people would be taking holidays, and for many this will have been the first time they will have had a chance to go anywhere for well over 18 months. Hopefully, this will still be possible. In any event, the October date fixes the meeting at what has traditionally always been when the ISUOG meeting is run.
On Sunday the 25th April, the monthly ISUOG webinar was focused on Basic Training (BT). This event attracted over 1600 registrants, of whom over half were new to ISUOG. Basic Training continues to be a success story for ISUOG and I am sure there will be many more "BT" courses this year around the world, starting with the 2-day ISUOG BT course that will take place on the 12th and 13th June. There will also be the "BT Flex" course starting late later in June into July. I should remind members that you can apply to run your own Basic Training courses.
So – what's coming up in the near future? This Saturday, the 15th May, there are still places on the Congenital Infections course. This has been put together by Asma Khalil and includes a fantastic line up of speakers.
What about the Journal? The May issue includes a Review on the management of SARS-CoV-2 infection in pregnancy, a 'How To' article on screening for vasa previa, a study on the relationship between ophthalmic artery Doppler and maternal cardiovascular function, a RCT on pelvic floor physiotherapy in women with deep infiltrating endometriosis and superficial dyspareunia and a study on the predictive value of fetal cardiac parameters for urgent neonatal balloon atrial septostomy in simple transposition of the great arteries. Being entirely biased, I have to highlight the 'How To' article by Ranzini and Oyelese. I have known Yinka Oyelese for many years and I know vasa previa has been a passion for him all of that time. In this 'How To' article, Yinka and Angela Ranzini discuss practical points and useful tips for screening for vasa previa showing how to identify the vast majority of cases, thus improving the neonatal outcome. It is good to see this paper in the issue as sometimes practical clinical articles can be crowded out by systematic reviews or relatively "theoretical" research articles. Clearly the evidence base is vital, but I think it is good to strike a balance and publish some articles that actually give practical advice sometimes.
In the UK, it is Mental Health Awareness Week. It is a timely reminder of the difficulties many people have encountered coping with the last year. We know that pre-pandemic much of the medical workforce was suffering from burnout. It is likely the situation is now even worse. We know that burnout is associated with patient safety incidents and poor professional behavior, so on every level it is essential that this issue be addressed. Too often, the onus is put on individuals by providing "resilience training". However, the solutions to this problem are organizational rather than trying to make clinicians better able to cope with toxic environments. In my view, ISUOG has a legitimate interest in this space. Our mission is to improve women's health through the provision, advancement and dissemination of the highest quality education, standards and research information around ultrasound in obstetrics and gynecology. This is not possible if clinicians are burnt out. We have pulled together some useful resources on our website.
Finally, back in London, it looks like we are heading into a period of relative normality. Conversations are now happening about working arrangements in the office and there is some prospect of actually having face-to-face meetings. Restaurants are beginning to open and people are actually attending sporting events. Who knows how long this will last. In any event, I am acutely aware that many of our members are very much in the eye of the storm as far as COVID-19 is concerned. So, I just want to wish all ISUOG and their families good health in the coming weeks.
Best wishes,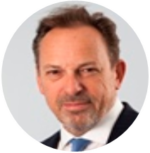 Prof. Tom Bourne
ISUOG President