ISUOG is participating in the World Pre-eclampsia Day to bring greater awareness to prevention, diagnosis and management of pre-eclampsia.
Latest resource on pre-eclampsia from our journal:
Read our free-access resources on Pre-eclampsia: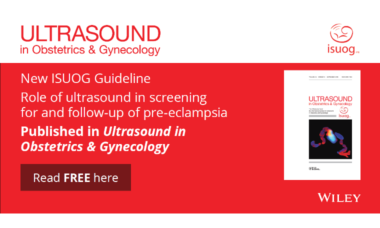 All ISUOG Practice Guidelines are hashtag free-access.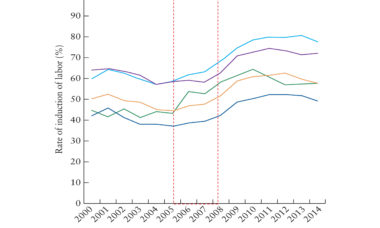 In 2009, the Hypertension and Preeclampsia Intervention Trial At near Term-I (HYPITAT- I) trial showed that inducing labor in women with gestational hypertension or preeclampsia at the end of pregnancy reduces the number of high risk situations for the mother, without compromising the health of newborns. A new analysis evaluated the impact of the HYPITAT-I findings on timing of labor and subsequent outcomes for mother and child in the Netherlands.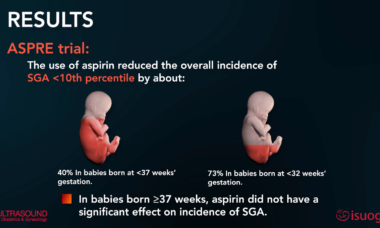 Watch the video abstract of a study by Tan and colleagues from Prof. Nicolaides' group, showing that first-trimester screening for pre-eclampsia by maternal factors and biomarkers identifies a high proportion of cases of preterm SGA that can be prevented by the prophylactic use of aspirin.
Watch video lectures from our Congresses on early prediction and prevention of pre-eclampsia
Dr. Rolnik describes the prevalence of pre-eclampsia, reasons for aspsirin use and trials done on effect of aspirin on pre-eclampsia. 2017.
This lecture was delivered by Liona Poon at ISUOG's pre-congress course "Modern obstetric management: the latest updates" in Vienna, in 2017
Prof Da Silva Costa describes screening for PEC and the performance of screening parameters (including history, ultrasound and mean arterial pressure and reviews the ASPRE study. 2017.
Join our ISUOG community to help support us produce high-quality educational and research material on conditions like pre-eclampsia and more. See our membership page for a list of all benefits for each membership level.