At the AGM in October 2020, Dr Aly Youssef was appointed as a Trustee for the International Society of Ultrasound in Obstetrics and Gynecology (ISUOG).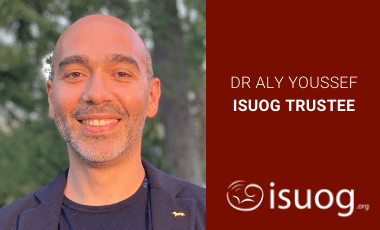 Biography
Dr Aly Youssef is a consultant and obstetrician in prenatal medicine for the Department of Obstetrics and Gynecology at St. Orsola Malpighi University Hospital, Bologna University, Italy. He is the Social Media Editor of the Ultrasound in Obstetrics and Gynecology Journal (UOG) and a member of the Basic Training Task Force. He gained his MD at the Alexandria University in Egypt in 2001 and has published more than 95 research papers in medical journals.
Dr Youssef has previously held positions at ISUOG as a Chair of the CME Task Force, a member of the Education Committee, UOG Editor for trainees and an ISUOG Ambassador for Egypt where he was born, and for North Africa.
Hear from ISUOG Trustee, Dr Aly Youssef
"As a member of the ISUOG family, I am honoured and deeply grateful to be chosen as a Trustee. To be appointed as a Board member means to me an increasing responsibility to work even harder to help ISUOG reach its goals. My vision is to mirror ISUOG's spirit where reach, inclusiveness, and high-quality education are integral. In these exceptional times during 2020, we learned a lot and I am proud of the work the Society has done, leading by example on how to stay strong, be positive and make an impact. We will continue our mission to disseminate education using all the possible imaginable and even unimaginable tools."
Connect with Dr Aly Youssef via Twitter @AlyYoussef1
Appointed: October 2020.