March is 'Endometriosis Awareness Month' and ISUOG's Ask the Expert - Patient Perspectives series goes to the heart of the issues surrounding endometriosis. With our specially selected clinical expert panelists, Prof. George Condous and Dr Mathew Leonardi, we answer the questions that matter most to our community's patients.
Endometriosis is a disease where tissue similar to the lining of the uterus grows outside the uterus, causing pain and/or infertility. The disease, to which there is no known cure and where the focus looks to control symptoms, affects roughly 190 million people worldwide.
Each week, we'll be updating you with our panel's discussion on topics, such as why endometriosis happens in the first place, whether it affects fertility and how endometriosis impacts pregnancy and labour.

Series Videos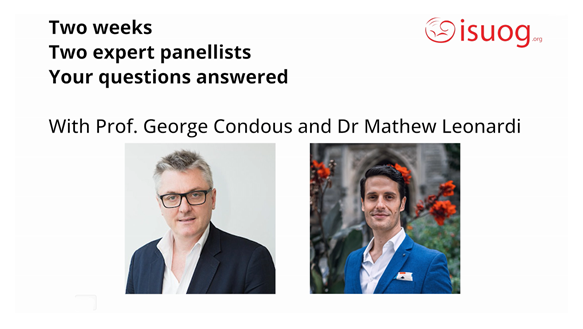 Questions for our Panellists
Endometriosis: Read, Watch and Learn
ISUOG has compiled a collection of resources from our community's expert clinicians, including detection of ovarian and deep endometriosis, endometriosis and infertility and the natural history of endometriosis in pregnant and non-pregnant women. Read, watch and learn here:
Expert Voice: Endometriosis