Read the latest letter from ISUOG President, Prof. Tom Bourne, about Easter weekend, the next webinar in the free ISUOG series, important articles in the April issue of the UOG Journal and much more.
Dear Colleagues,
So we have had a classic Easter weekend in the UK. Warm and sunny on Friday, followed by snow in some parts of the country by Monday. This temperature variation naturally has fed the British obsession with talking about the weather as people try to make plans to socialize outdoors in line with new changes in COVID-19 regulations. Having decided to quantify this British meteorological obsession, I carried out a quick online search (not a systematic review I have to admit), which revealed a 2018 study showing the average British person spends the equivalent of four and a half months of their lives talking about the weather. I felt this knowledge should be shared with the ISUOG membership. Of course "talking about the weather" is in fact a kind of code we have evolved to help overcome social inhibitions. There is a strict etiquette. In most cases, the subject will be raised as a question, for example "freezing again isn't it". Irrespective of your view on this, the correct response is to agree, and then grumble in general terms about the weather irrespective of whatever it is at that moment.
Moving on to more important issues. Marking Endometriosis Awareness Month, on Sunday 28th of March, over 2000 registrants logged on to watch the second ISUOG webinar of the year. George Condous and Mathew Leonardi put together a really good program using an "in conversation" format rather than relying on PowerPoint presentations. This approach is far more demanding on chairs, but cuts straight to the discussion which is invariably the best part of meetings. In another important and overdue innovation for ISUOG, they included a discussion with Alexandra Camara, who is a patient advocate in Canada on endometriosis. I think we are going to see a lot more highly informed patients speaking at ISUOG events in the future.
This weekend we have the Virtual International Symposium (previously scheduled for Calgary). It promises to be a great couple of days, so do consider registering if you have not done so already. I am looking forward to hearing from our two plenary speakers. I suspect like many of you I have followed Jen Gunter on social media for a while, so hearing her speak about the power and perils of social media is going to be fascinating. The topic of visual intelligence could not be more apt for an ultrasound meeting, so Amy Herman talking about "seeing what matters" should be interesting to anyone who looks at images for a living. I can highly recommend her book as well.
The next webinar in the ISUOG free monthly series has been put together by the Basic Training team led by Gihad Chalouhi. Join in on Sunday 25th April to learn about the Basic Training initiative, hear practical approaches to scanning, watch demonstrations and a live Q&A with an international panel.
The ESGO/ISUOG/IOTA/ESGE consensus statements on the pre-operative diagnosis of ovarian tumors were published online on the 1st of April. The development group was led by Christina Fotopoulou and Dirk Timmerman and is a step towards more collaborative guidelines and meetings with other specialist societies in gynecology. It is clear from this inititiative and the endometriosis webinar that ISUOG must work with other societies to ensure that ultrasound training is an intrinsic part of surgical training. The "surgeon-sonologist" needs to move on from being a rarity to the standard that is expected for all. For this to happen, more training opportunities will need to be created in a number of countries (including the UK).
Sticking with the Journal, I want to draw your attention to a couple of papers that are in the April edition. One is the report of the pregnancy and neonatal outcomes of COVID-19 from the PAN-COVID and AAP-SONPM registries. Few large cohort studies have reported data on maternal, fetal, perinatal and neonatal outcomes associated with SARS-CoV-2 infection in pregnancy. Ed Mullins and colleagues report the outcome of infected pregnancies from a collaboration formed early during the pandemic between the investigators of two registries, the UK and Global Pregnancy and Neonatal outcomes in COVID-19 (PAN-COVID) study and the American Academy of Pediatrics (AAP) Section on Neonatal–Perinatal Medicine (SONPM) National Perinatal COVID-19 Registry. The findings of the study, in over 4000 pregnant women, showed that COVID-19 in pregnancy is not associated with stillbirth or early neonatal death, but infected women are more likely to deliver prematurely, particularly because of medically indicated rather than spontaneous delivery. The data presented support strong guidance for enhanced precautions to prevent SARS-CoV-2 infection in pregnancy, and for priority vaccination of pregnant women and women planning pregnancy. The April issue of the Journal also sees Part 2 of the updated ISUOG Practice Guidelines on the performance of targeted neurosonography. It is commonly accepted that targeted fetal neurosonography has a much greater diagnostic potential than does the basic screening examination, and is particularly helpful in the evaluation of complex malformations. The newly updated ISUOG Practice Guidelines describe the protocol for the diagnostic ultrasound examination that should be performed in any case in which there is an increased risk of CNS malformation. A detailed list of indications for this targeted fetal neurosonography was published in Part 1 of these guidelines.
Moving on to courses, coming up on the 15th of May is the one-day ISUOG education course on the diagnosis and management of congenital infections. Asma Khalil has put together a fantastic program that will cover everything from CMV and Zika to controversies relating to COVID-19 and pregnancy. There will also be OPUS simulations with Gustavo Mallinger and Mauricio Herrera.
Finally, the dates for the ISUOG World Congress for 2021 have now been fixed for the weekend of Friday 10 – Sunday 12 September, which is a little earlier than usual. Abstract submissions are now open with a deadline of 4th May. A decision has been made for the 2021 Congress to be 100% virtual, as it seems unlikely that there will be reasonable freedom around travel for the rest of the year.
So that's it for the April newsletter. Quickly scanning through the text, it seems I have only mentioned COVID-19 twice, so I guess that has to be encouraging.
Best wishes,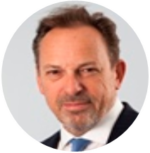 Prof. Tom Bourne
ISUOG President