New President, Prof. Laurent Salomon, talks to us about his long-standing involvement with ISUOG, proud moments and looking forward to the challenges his new role presents.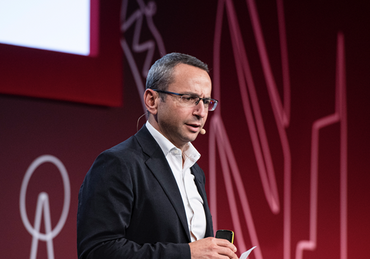 In December 2022, we welcomed ISUOG's new President, Prof. Laurent Salomon. While only two months into taking up the mantle, as a long-time friend and member of ISUOG, Prof. Salomon is no stranger to the Society's development over the years. We caught up with him to talk about his involvement with ISUOG as a fresh-faced intern, proud moments during his career and looking to the future of ISUOG in improving women's health in obgyn.

When did you first get involved with ISUOG and how has the Society changed since you joined?
My first real involvement with ISUOG goes back to the 2003 World Congress that was held in Paris, at the Carrousel of the Louvre Museum. That year, the event was organized by my boss, Prof. Yves Ville, and I participated in Congress to present my first work as a young intern, and to offer some logistical help, such as counting the number of participants in each room. It is a very good memory to have! Since then, ISUOG has only grown, and every year Congress attracts more and more participants. It's great.
What challenges are you looking forward to during your tenure as ISUOG President?
Our members and our society have been greatly impacted by the COVID pandemic, which has affected our activity, our communications and limited our meetings. I hope that during my presidency, I will be able to make large scientific meetings possible again. Meetings such as these are so beneficial for physicians to network and exchange ideas to improve their practices. I also hope to be able to improve the link between ISUOG and its members, by reinforcing our presence on different networks, our targeted newsletters, but also via our regionalization program. This will allow us to better respond to, at times, different expectations in different parts of the world.
What is your proudest moment as a clinician?
We are fortunate to be in a meaningful occupation and I think we are proud every time we have actually done something for someone. It can be something simple, like having detected an abnormality that, if properly managed, will change the prognosis. It can be something vital, such as saving a life through a timely and appropriate intervention. It can be something educational, like when we are teaching our medical students. Personally, I was particularly proud when we were able to inaugurate in my hospital Necker-Enfants Malades, a new imaging care and research platform combining ultrasound and MRI.
What currently excites you about the field of ultrasound in obstetrics and gynecology?
The fact that ultrasound is developing in all fields of our specialty as a real extension of the clinic, thanks in particular to ultra-portable devices. I think that ultrasound will become increasingly more important in obstetrics, and not only in prenatal diagnosis. The progress of the devices will also allow more immersion in the uterus and allow a more functional examination of the fetus.
What advice would you give to clinicians who wish to train in ultrasound in obgyn?
Go for it! It's a wonderfully rewarding career that really makes a difference to patient gynecological and obstetric health. Once you have taken the plunge to embark on this specialism, ISUOG will be there to support you every step of the way. Trainees can receive free Trainee membership through institutions that have partnered with us in our trainee program, which gives access to a range of education and clinical resources for professional development.
How will we improve women's health and maternal care through ultrasound in the future?
While we are often amazed by the ever-increasing diagnostic possibilities, our number one goal must remain quality screening for as many people as possible. ISUOG must put all its efforts into allowing as many women as possible throughout the world, no matter their resources or background, to have access to quality screening. Only then will we begin to be confronted less frequently at the time of birth with multiple pregnancies, placenta previa, severe growth retardation, severe cardiac malformations, and to better prevent obstetrical complications.
Read Prof. Laurent Salomon's inaugural speech as ISUOG President here.
ISUOG Advisory Group, Executive Committee, Finance & Risk Committee, Nominations Committee, Fetal MRI Focus Group, UOG Editorial Board
Prof. Laurent Salomon is a senior consultant in the Department of Obstetrics and Fetal Medicine at Necker-Enfants-Malades Hospital and full professor at Paris Descartes University. His special interests are imaging technologies including MRI, Twins, Fetal surgery, Statistics, Teaching processes and Quality control. Laurent completed a PhD in Physics with distinction (Paris XI Sud, Science University – Orsay), applied to Functional Magnetic Resonance Imaging of the placenta. He also completed a MSc in Medical Statistic with distinction at the London School of Hygiene and Tropical Medicine (LSHTM).
Laurent is an associate director of a Master Degree in Prenatal Diagnosis and Fetal Medicine at Paris Descartes University. He is on the Editorial Board of Ultrasound in Obstetrics and Gynecology and involved in many committees and task forces of ISUOG. Laurent also serves on a regular basis as an expert for the National Agency for Biomedicine, French Health Authority and National Security Agency in Health Products, as well as for international research projects.
Country: France
Field: Obstetrics; Imaging; Fetal Medicine
Specialties: Fetal anomaly screening T1 & T2; fetal biometry and wellbeing; aneuploidies; fetal anomalies; fetal growth restriction; maternal and fetal Doppler; fetal interventional procedures; multiple pregnancy
Languages: English; French
Read more